The Golden State is the leader in the U.S. for electric vehicle adoption. The state's EV mandate requires that all new cars sold in 2035 and beyond will be zero-emissions. Californians are well on their way toward this goal.
Use eTags© to Quickly Complete Your DMV Service. Renewals, Title Transfers and More, All Online!
300,000 EV registrations in CA just in the first half of 2023
Just last year, California had almost 1 million light-duty EV registrations according to U.S. Dept. of Energy. In fact, by December 31, 2022, California had 37% of EVs nationwide. The California New Car Dealers Association revealed during the first half of 2023, over 300,000 electrified vehicles were registered in the Golden State.
From January to June 2023, the Tesla Model Y had the most registrations in California, followed by second most-popular Tesla: the Model 3. The Rivian R1s and Audi Q4 e-tron were registered the least with both less than 2,000 (registrations).
Over $53,000 is the average price of new EV
If you're a fellow Californian ready to jump on the EV bandwagon, know they can be expensive to purchase. Cox Automotive, parent company of KBB, puts the average price for an electric car above $53,000. The auto insurance rates are higher too, compared to a gas-powered vehicle. But the savings are big when it comes to charging vs. pumping gas, especially if charged at home. It could cost you $4-$9 per 100 miles in California.
The California Air Resources Board implemented a new regulation that requires 35% of all 2026 vehicle models sold by car manufacturers in CA to be electric
Used EV prices are down 30% making them more affordable
The good news is that if the sticker shock is a bit too much, you can buy a used electric vehicle. EVs have been on the market for long enough to have a significant secondhand inventory, both through dealerships and private-party sales. Prices for used electric vehicles fell by almost 30% between June 2022 and June 2023 according to iSeeCars.
In June 2023, used EVs on average cost about $40,000. But there are plenty of better deals when taking a closer look and not worrying about the "average." For instance, Driveway online is selling a used 2016 Volkswagen e-Golf for $12,579. CarMax has a secondhand 2019 Tesla Model 3 for $32,998 and a 2018 Nissan Leaf for $20,000. According to Recurrent nearly 40% of used electric vehicles inventory is under $30K.
The Atherton community in San Mateo County has California's highest percentage of electric vehicles; 1 of every 7 or 14% of Atherton's 6,261 cars are electric (CalMatters & Energy Commission)
Once you find the electric car of your choice and budget, you must title and register your vehicle to drive it in the Golden State. If you buy from a car dealership, their F&I department will likely take care of the paperwork assigning you the title, transferring it in your name and registering your wheels with the state. They may also just give you the title in your name, and let you register it on your own with the California DMV or with eTags online.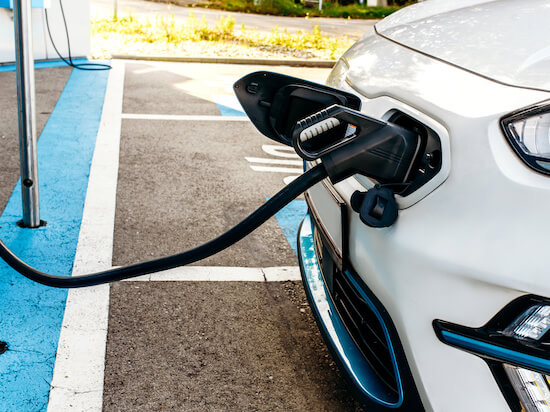 Assigned CA title and registration
If you bought your EV though a private party, you're responsible for all the paperwork involved to ensure your ownership. The seller will have to sign over the title to you, and you (the buyer) will have to transfer the title and register it. The registration includes the license plates, decal and card most keep in the glove box.
You electric vehicle doesn't have to undergo a smog test in California; it's exempt
The paperwork may include various forms such as a statement of facts (REG 256), application for replacement or transfer of title (REG 227) in case you can't use the actual CA title for your transfer, and a lien satisfied/title holder release REG 166. But don't worry, if you process your EV paperwork online with eTags, you'll have access to a title and registration specialist to guide you through it all.
SEE ALSO: ELECTRIC CARS 2023
eTags title transfer and CA license plates online
Thanks to you own personal account, the specialist will be able to communicate with you and advise you on the documents you need to upload to complete the transaction. Each driver and every situation is different, so documents and forms required are also different for everyone.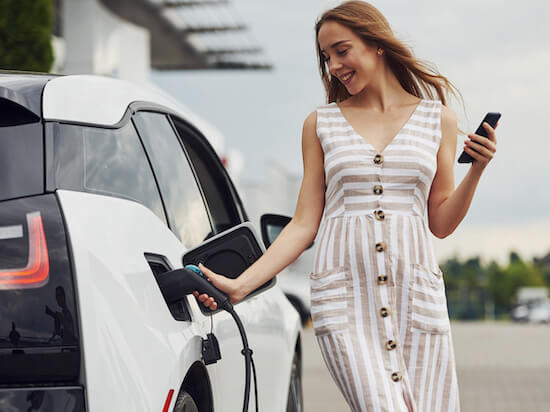 With eTags online title transfer and registration are processed at the same time. All you have to do is submit details about your vehicle and insurance coverage. You can't register your EV without insurance. eTags is contactless so no in-person visit, no line, and no going back-and-forth because of missing documents.