Use eTags© to Quickly Complete Your DMV Service. Renewals, Title Transfers and More, All Online!
Getting a DMV tag renewal in Florida can be complicated, time-consuming, and costly. If you don't have the appropriate documentation, trips to the DMV can be frustrating and an exercise in futility. If your county doesn't offer reservation times for renewals, in-person walk-in waits can be lengthy.
Below are answers to 8 common questions regarding DMV tag renewal in Florida that may help you in your quest to renew tags with fewer hassles:
Where can I go to renew my tags?
License tags in Florida can be renewed several ways. You can visit your local Tax Collector's office if you have the time and means to get there. Some county's have private companies to operate field offices for license tag renewal and you will likely find less of a wait time going there but there will be an extra fee. You may also renew by mail but this will likely require that you have your renewal notice if you got one. Lastly and usually the most convenient way is to renew online. Depending on which county your vehicle is registered in, there may be up to 3 different websites you can use. eTags.com is one website that drivers in any Florida county can use, and the only online service allowing you to renew after your expiration window has passed and/or your vehicle registration is expired.
Can I renew my tags with a suspended license?
The simple answer is no. In fact, Section 320.02(12) of the Florida Statutes requires a new registration or re-registration to be withheld on any motor vehicle if either an owner or co-owner of a vehicle has a suspension against their driver license. This is an apparent effort by the State of Florida to ensure traffic citations and other fines are paid regardless of whether it was an owner or co-owner of the vehicle who committed the violation(s).
Any suspension will have to be resolved before you can renew your Florida tags. You can use this state government page to check each vehicle owner's license for any issues: Click Here to Check Your Driver's License Status
How much is it to renew your tag?
There are several variables involved in the calculation of Florida tag renewal registration fees including registration use (commercial, business, or private), the license plate type (regular, specialty, or personalized), and the class code of the vehicle which usually has a direct tie to the vehicles weight.
The base registration fee in Florida is determined by weight and the lowest fee is $5 (for a moped) and the highest is $1,300 (for a large semi) annually. To that base fee, an assortment of statutory fees and State Tax Collector fees are add. For an average sedan, a final renewal cost can be in the $47.50 range. Even with all of the statutory fees, Florida has some of the lowest registration fees in the nation.
Florida also has an extremely wide selection of specialty plates. The state charges an additional $20 to $28 per year which goes to the organization the plate promotes. If you want a personalized plate which allows you to have an approved number and/or letter configuration of your choice, that will be an additional $25 per year.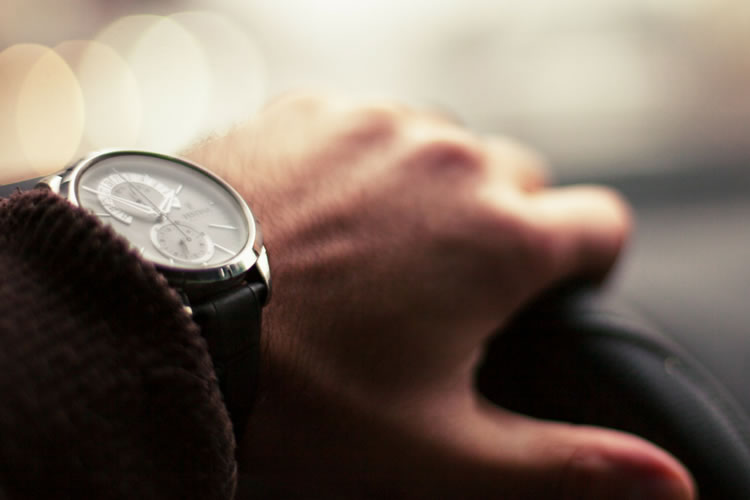 Avoid the long lines and frustration of tag renewal at the Florida DMV when you renew your vehicle's registration online.
Can I renew Florida tags from another state?
If you are currently out of state, your State of Florida tags can be renewed by mail, given you have received a renewal notice. Florida tag renewal may also be accomplished online which is usually the exist way. However, if you are using the state website, you will be required to change your registered mailing address to the out of state one you wants your tags mailed to. If the out of state address you are at is not a permanent location and you do not want to update your DMV mailing address, you can use our eTags registration renewal service to get the tags mailed out to where you are without having to change your DMV mailing address.
When do I have to renew my tags?
Florida license tags can be renewed up to three months prior to expiration. There is no grace period for the renewal of license tags in the State of Florida. This means tags will expire at midnight on the expiration date listed on the registration card. You can get an expired tags ticket (costing between $120 to $150 on average) the day after the listed expiration date on the registration card.
If registered in the name of person, the expiration date is the first listed owner's birthday. If registered to a business, the expiration date will be the the same month and day it was first registered. Beyond that, there are other factors that may effect the expiration date including the vehicles weight. As an example, regardless of whether the vehicle is registered to a person or business, the expire date of a vehicle over 5,000 pounds will be December 31st.
How long do you have to renew your tags?
Since there is no grace period for tag expiration in Florida, tags must be renewed by midnight of the date listed on the registration card. If there are co-owners, the first person listed on the registration's birth date is used. If you renew after your tags expire, you may be assessed a late fee in addition to the regular registration. This amount ranges from $5 to %$250 depending on how long the tags have been expired and the vehicles weight. In Florida, license plates for standard vehicles can be renewed for a period of one or two years.
Can you renew your tags online?
Yes, Florida license tags may be conveniently renewed online. Tag renewal online is secure and convenient. There is a convenience fee associated when you renew tags online with eTags or with GoRenew but that fee is usually easily offset by the time, fuel, and frustration savings associated with renewal in person. Or, at least, we think so.
What do I need to renew my car registration?
You will need your current registration renewal notice or registration card, proof of auto insurance, and payment in the form of check or credit cards. If you are renewing in person, you may also be asked for an ID.
You can avoid the long lines and frustration of tag renewal at the Florida DMV when you renew your vehicle's registration online. We are a convenient and secure way to renew not only your Florida tags but we offer an expanding range of online services including state vehicle records, drivers license information, DMV records, and even auto insurance quotes.
No, really. Renew your tags online!