In today's automotive world there's plenty of changes taking place at a rapid pace. Post-pandemic brought on chip shortages, paused vehicle production, car factory shutdowns, EV adoption, not to mention practically no inventory at your local dealership. This reality resulted in extremely high prices for new vehicles, over $48,000, with used cars selling for $33,000 on average (Autoweek). Of course, luxury cars are even more expensive. Statista reported $73,100 is the average transaction price for a luxury vehicle.
Use eTags© to Quickly Complete Your DMV Service. Renewals, Title Transfers and More, All Online!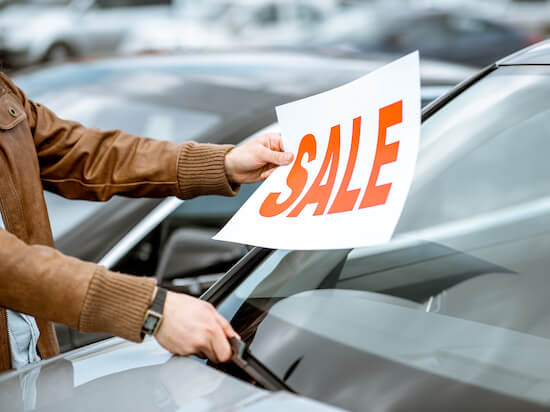 Test-driving a vehicle lets you identify issues the naked eye can't see
Car buyers are finding all sorts of ways to counteract the situation, from finding cars online, to buying out-of-state, to trade-ins and buying used both privately and thru dealerships. With so much business going on in the automotive industry, it's wise to know how to test-drive a used vehicle before the car title is signed over to you. eTags, a vehicle titling and registration company, is here to help with advice on how to try out your wheels before you buy to make sure you get what you pay for.
If you have the chance to test-drive multiple cars in the same class, go for it since it'll make it easier to compare one from another
Many car buyers purchasing used wheels rather not test-drive, so they can skip the back-and-forth with the dealership's salesperson. But refrain from doing this! You want to make sure you can feel how the steering turns, what the throttle response is like, as well as look for blind spots or anything that challenges you while you drive. After all, with used vehicles being so costly you better get something you love!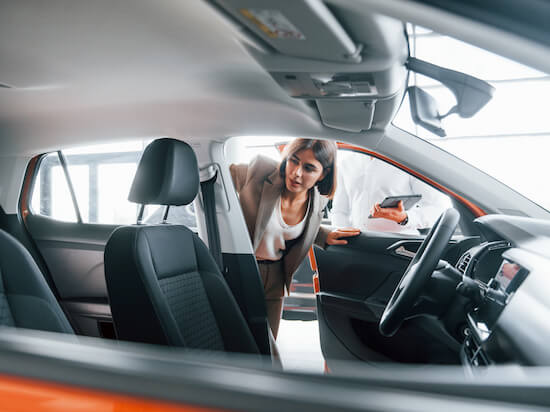 Make an appointment to test-drive the used cars you're interested in
Most people rather not deal with a salesperson, so it's important you make this part easier on yourself. Call the used cars dealership ahead to make an appointment with someone. This way by the time you get to the lot, the used vehicles you're interested in will be waiting "in front" for you, ready for test-driving. If you just walk in, you'll probably have to wait, they'll assign anyone who's on the "floor," and the used cars may not even be gassed up. Just make it more convenient for yourself and save time.
Get comfortable, and adjust everything to your liking
Get in an out a few times from the vehicle, before you even turn on the car. Some vehicles are hard to get in and out of; think of a pickup truck, or a low-to-the-ground sports car, and the like. You may have children or aging parents you help take care of, or other circumstances that makes getting in and out comfortably an important must-have.
Take a close look at what you may think is trivial
In a used vehicle, there are certain parts of the car that aren't most up to date. For instance, does it connect to Bluetooth; something that may be important in today's world where there are rules about driving and talking on the phone. Test out car seats, rearrange mirrors, and explore the multiple accessories or lack of. For example, cup holders can seem trivial but if you have young children, these become very important. If you're interested in a convertible, test out the retractable roof.
SEE ALSO: CAR BUYING-DEALERSHIP OR PRIVATE PARTY FOR USED VEHICLES
Listen to your vehicle while testing out various maneuvers on the road, like sharp turns, breaking, highway driving and the like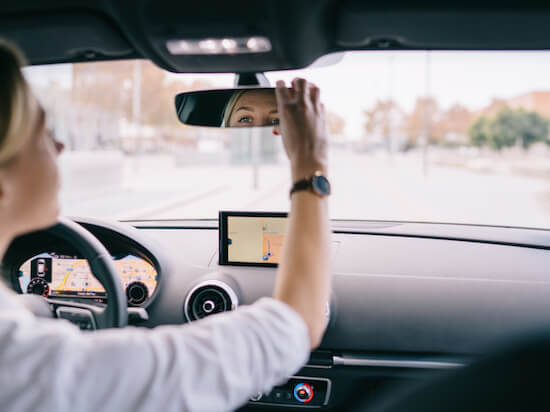 Don't take the pre-determined test-driving route
Your used car salesperson probable takes the same test-driving route every time, but make sure to try driving on other roads. Test-drive in stop-and-go traffic, on the highway where speeds are higher, uphill and downhill, speed bumps, and the like. You want to know how the used vehicle handles itself in various situations, and road conditions. As you go, play with the multiple buttons. How are the electric windows, the wipers, the stereo, and so on. Drive naturally to see if the car adapts and accommodates to you and the way you handle the wheel + gas pedals.  
As of 2018, all new cars are equipped with a reversing camera, but this technology isn't in all cars made earlier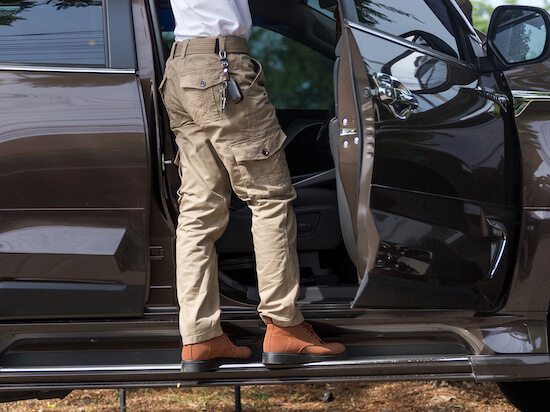 Practice parking the used vehicle
Some cars are harder to park than others. The Chevrolet Suburban and Mitsubishi Eclipse for example are notorious for difficult parking. If it has a long hood, a pointy tail, or huge tires, that can make it more difficult to park. Some used cars also don't have a rear camera to help navigate your way or sensors that beep when you're too close to another car or curb. Make sure the vehicle is easy to parallel park, and fits easily in parking spots.
When you find the used vehicle you want, remember eTags transfers titles and processes registration for a variety of vehicles including passenger cars, SUVs, electric vehicles, motorcycles, pickup trucks, RVs and motorhomes.