When it comes to driving safety and the holiday season, your typical articles online highlights impaired driving (or driving drunk), since fatalities are extremely high during the time between Christmas and New Years. In fact, During the 2019 Christmas Day holiday period, 38% of fatalities involved an alcohol-impaired driver. You add snowy or rainy weather, tons of traffic due to all that holiday shopping, late-night office parties, neighborhood tree lightings, as well as celebrations, and you've got more unsafe roads.
Use eTags© to Quickly Complete Your DMV Service. Renewals, Title Transfers and More, All Online!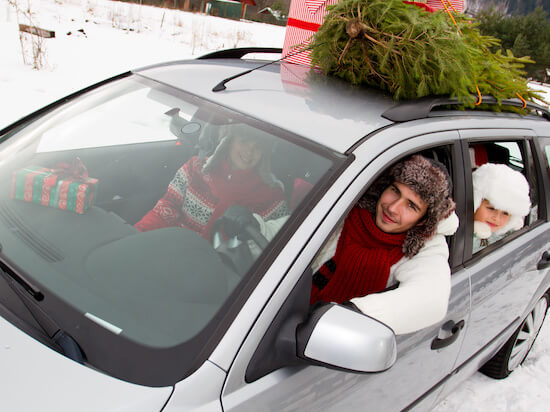 However, this article focuses on another concerning factor to driving safety during the holidays: securing your Christmas tree. AAA auto club network found 44% of people would unsafely transport a live Christmas tree to their house (2019 survey). Will you be part of the statistic? If you want to get on Santa's good list, you need to know how to safely secure your Christmas tree as a driver.
Tip #1 to drive safely with a Christmas tree: avoid traffic
So, despite the difficulty, you still want to drive a Christmas tree (safely) to your home. If you choose to carry your tree by car, make sure to avoid the road when traffic is at its worst. You can use mobile apps like Waze or Google Maps to check road congestion. Some even give you a sneak peek at what traffic looks like at different times.
The worst time to drive in the U.S. is between 5 PM – 7 PM on average
Typically, traffic is worse when people are driving to and from work. In general, stay off the streets with a huge tree strapped to your vehicle during these times. DriversEd online writes that the worst time to drive in the U.S. is between 5 PM – 7 PM when traffic conditions are congested and people are itching to get home quickly. Though, this site also writes that 12 AM – 4 AM was the time slot that had the most fatal accidents in 2020. This is likely because of people driving home under the influence after a night out. Forbes points out that 32% of people involved in nighttime crashes in 2017 were drunk.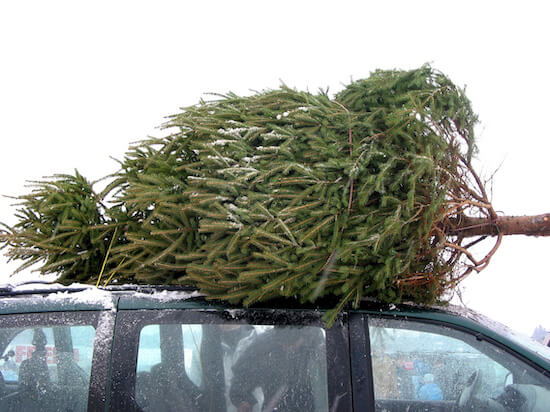 AAA also writes that one-third of crashes involving debris occur between 10 AM – 4 PM. It's because people are likely to haul heavy items like construction equipment and furniture during these times. Unsecured items like these can cause debris when they fall out, but also may lead to pieces of the vehicle falling off if a heavy item is sloshing around.
Tip #2 for Christmas tree drivers: secure it properly to your vehicle
You might think that the workers at the Christmas tree shop will help you secure your tree to your vehicle. The reality is that most won't do that because it's a liability. If the worker damages your vehicle while they secure your tree, the Xmas tree company might have to fix the damage. To avoid that completely, many shops won't help you beyond bundling up the tree itself.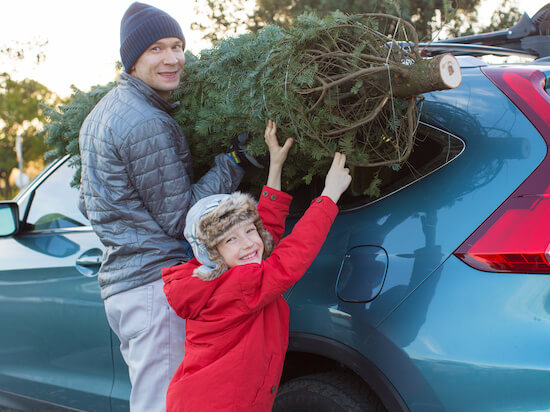 That leaves you responsible for correctly securing it to your vehicle. First of all, AAA says the safe way to transport a Xmas tree is by placing it on a roof rack with the trunk facing the front of your vehicle. If you don't have a roof rack, you can place it inside your car with a blanket underneath with the tree trunk facing forward. AAA offers the following advice:
• Fasten the Christmas tree at its bottom, center, and top
• Use strong rope or nylon ratchet straps
• Use fixed vehicle tie-down points and loop the rope or strap around the trunk above a branch to stop it from sliding around
Tip #3 for safe driving with a Christmas tree: take the back road
Have you ever seen a pine tree fly before? Drive a Christmas tree down the highway! Most road debris accumulates on interstate highways because of the high speeds vehicles are allowed to drive at; some speed limits go as high as 70 mph. Whatever is attached to a vehicle might fly off hard in this situation.
AAA reports that appliances, construction equipment, and even tires commonly become impromptu obstacles on highways. Mix in motorcyclists weaving in and out of the highway and you've got the perfect recipe for a flying fir. Instead, take the back road to the tree's final destination even if it takes you longer.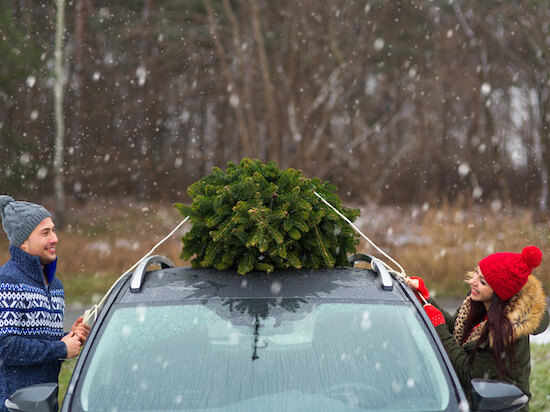 One-third of crashes involving debris occur between 10 AM – 4 PM
Tip #4 to help you secure your Christmas tree: pick the right one
The Christmas tree of your dreams may be the 20-foot one that has the width of a large bird's wingspan. Realistically, can you strap this monster of a Xmas decoration to your Mini Cooper? You might be able to secure it on only to see it fly off and smash through the window of the registered car behind you. Make sure this nightmare before Christmas doesn't happen to you by measuring your car's roof beforehand. It's also a good idea to measure the length of the room it will be in to pick the right one. There should be enough room for your tree topper and then some for everything to fit correctly.
Tip #5 for people thinking about driving home their Xmas tree: don't DIY it
What's the best way to get your Christmas tree from where it is to where it needs to be, you may ask? Don't do it yourself! There are plenty of companies that will deliver the spruce of your dreams directly to your home. A quick Google search shows you endless options to choose from. Although this may be more expensive, it won't be more expensive than a lawsuit if it torpedoes into traffic.
Many companies will deliver a Christmas tree directly to you
Also, think about how you may need to drive in snow (even more of an opportunity to see a flying pine tree). Sometimes it's better to opt for the safe, convenient option. And since over 116,800 people annually get into serious accidents because of winter conditions, maybe it's a good idea to avoid the roads when you can this holiday season.
Happy holidays, and a happy New Year!