Bumper stickers, condo decals, residential permits, and electronic toll passes tend to amass on your set of wheels over time. Remember when you were touting your 6th grader was an honor roll student? Years later, it's just a damaged sticker ruining your carwash while your kid is a college student. How about when you were displaying your political views? Or telling everyone your "other car is a Porsche."
Use eTags© to Quickly Complete Your DMV Service. Renewals, Title Transfers and More, All Online!
Whatever you had to stick on your car's bumper or windshield is probably still there years later. Bet you tried removing those sticky decals but gave up hope two minutes in; seriously how long do you have to scrape for it to come off. If you've had your vehicle for quite some time and are looking to sell it or just refresh the look, removing all these stickers and decals are a must. No one needs to know there was a time when you asked drivers behind you to "honk if parts fall off."
More than 7 million presidential election-related bumper stickers have been printed in 2020
Remove the more natural way
White vinegar has many uses that don't involve salad dressing. You can clean your floors with it, add to laundry to dissolve detergent residue, or add it to baking soda to unclog drains. White vinegar multi-usage extends to car stickers too! Fully wet a paper towel with white vinegar, then rub it across the sticker. Let it soak a few minutes. Next peel gently away with credit card.
Good old WD-40
This magical can of do-it-all seems to be a solution for everything, including removing bumper stickers and other types of decals like condo parking decals. WD-40 lubricates squeaky doors, protects against rusty tools, and yes, the can removes all sorts of stickers on cars. Speaking of vehicles, you can use WD-40 to scrape off bird dropping from car roof.
For bumper stickers, just spray some WD-40 on the decals and let it sit for five minutes. Then peel the sticker slowly with the help of an old credit card so you don't scratch your car's surface. You can also use a rubber spatula for even more protection to your vehicle. If you get stuck along the way, and the remaining sticky surface isn't peeling of, spray some more WD-40, let it sit a bit, and continue the process. You will probably run into some of the leftover residue from the sticker glue, just rub some alcohol or use soap and water to clean off entirely.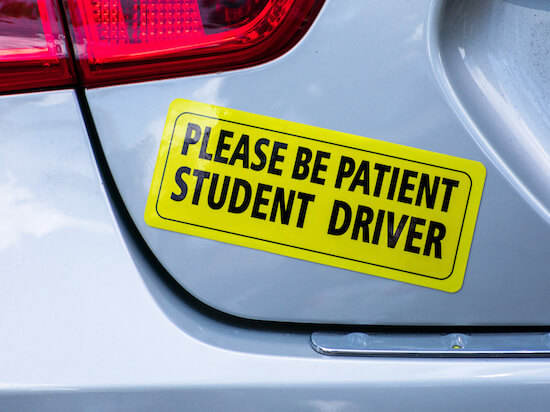 Blow dry that bumper sticker
Yes heat can remove those stubborn decals and old residential permits you don't need anymore. In fact, a blow dryer can also be used to remove those pesky shoe size stickers in your favorite pair. For car related stickers, just dampen a wash cloth and rub it over the decal. Then apply high heat with your hairdryer about six inches away. Once warm, peel the sticker with a credit card or something like it. Keep reheating the various areas, until all stickers are gone.
The classic "Hello My Name Is" sticker used at conferences and workshops was introduced in 1959
Goo Gone automotive spray gel
For less than $10 you can get a solution made for removing pesky decals and stickers of all kinds on your car. It doesn't drip so it adheres well to the sticker surfaces. It works on bird droppings, tree sap, and gum too.
SEE ALSO: NEVER LEAVE THIS IN YOUR CAR–FLAMMABLES, WATER BOTTLES AND MORE 
Do you have any unique ways to remove stickers from your car? Please share!