The weather is getting warmer, and the motorcycles are out. It's officially riding season! The month of May marks the national Motorcycle Safety Awareness Month in the U.S. Riding safety, sharing the road advice, and tips both for motorcyclists and car drivers alike are in every major news channel.
Use eTags© to Quickly Complete Your DMV Service. Renewals, Title Transfers and More, All Online!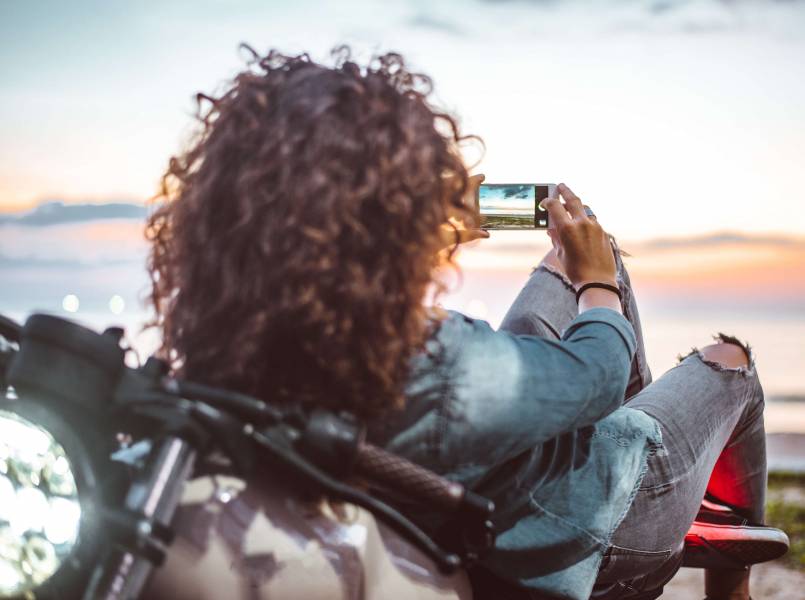 According to the Institute for Traffic Safety Management and Research (ITSMR), fatal motorcycle crashes were up more than 35% from 2019 to 2020 in New York State. In Pennsylvania, there were about 4,000 crashes (compared to 2,977 in 2019) and 217 motorcycle accident fatalities last year. According to FLHSMV, Florida had over 8,000 motorcycle accidents in 2020, of which 516 were fatal.
80% of all motorcycle crashes result in injury or death, as opposed to 20% of all car accidents
Motorcycles sales were up 11.4% last year for new motorcycles and scooters, and so far in 2021, there's a year-over-year increase of 37.2% for motorcycles and scooters. In 2019, there were 5,014 motorcyclists killed in traffic crashes nationwide.
In 2020 alone, motorcycle crash fatalities represented 18% of all motor vehicle crash fatalities in New York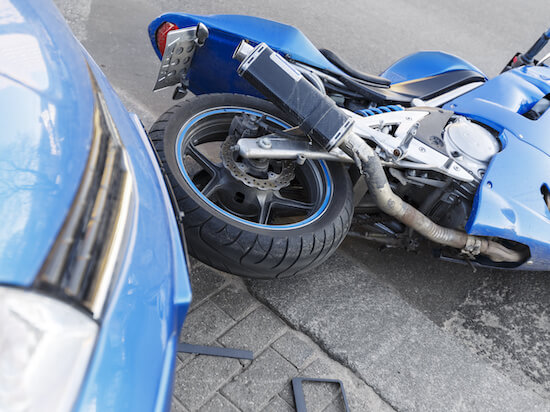 Motorcycle rider and passenger fatalities doubled since the late 90s. Motorcycle safety requires involved every type of driver. After all, we're all sharing the road. The NHTSA says that, for the most part, when bikes and other vehicles crash into each other, it's usually more that non-motorcycle driver who violates the motorcyclist's right of way. Car, truck, and SUV drivers typically don't anticipate motorcyclists' movements, and many times don't even see the rider.
Motorcycle Safety Tip 1: Get training
More than 80% of all reported motorcycle crashes result in injury or death, so it's crucial you know the rules of sharing the road safely. And over 90% of riders involved in accidents had no formal training. There are various types of motorcycle riding training, from the basic rider course, to getting your endorsements, and even refresher courses.
Nearly half of all motorcycle riders involved in accidents are unlicensed or improperly licensed
Depending on your state, you can research online what kind of riding lessons are best for your needs. In Florida for example, there are two types of motorcycle licenses: a motorcycle license endorsement and a motorcycle-only license. The only difference is that the first type allows you to also drive a car.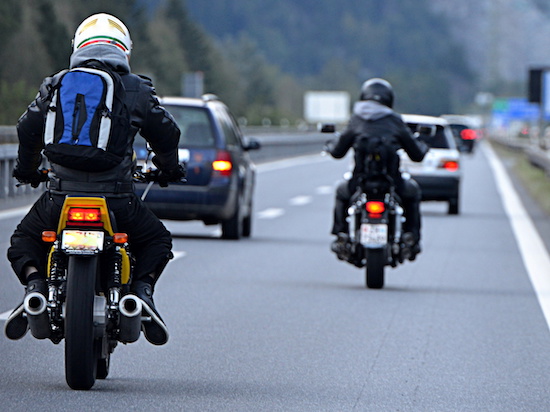 Motorcycle Safety Tip 2: Avoid blind spots
Motorists and motorcyclists can help reduce the risk of a blind spot accident. For those riding, try to always ride in front or behind a vehicle, rather than to the side of the vehicle. A motorist's blind spots include to the left and right rear of a vehicle. For drivers, that means adjusting all your vehicle mirrors correctly, so you have better sight of what's around you. When changing lanes, always look over your shoulder for the blind spots. Using your blinkers will also help communicate your next move.
Don't forget, the larger the vehicle, the bigger the blind spots
It's important to note that not only does each vehicle have different blind spots, but each driver has different blind spots, as well. The driver's height determines the best mirror placement. Be sure to adjust your rearview and side-view mirrors before each trip.
SEE ALSO: DIY MOTORCYCLE INSPECTION CHECKLIST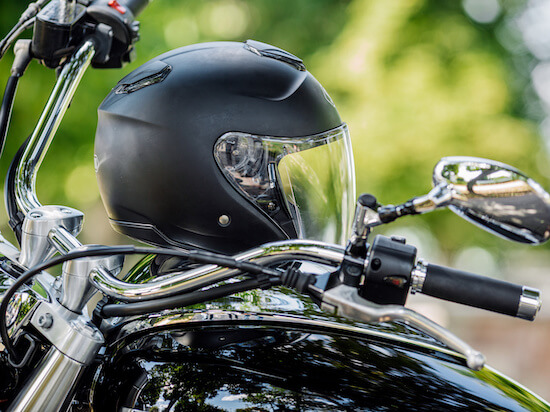 Motorcycle Safety Tip 3: Protect your head the right way
Not every state requires motorcyclists to wear helmets, but even if you don't have to, wear one anyway. New York was actually the first state to mandate wearing a motorcycle helmet. Make sure you choose a motorcycle helmet that has the DOT sticker for guaranteed safety standards. Look for a sticker with manufacturer, model name, "DOT FMV-218 compliant.
DOT-approved helmets weigh around three pounds and have a thick liner under the shell
DOT-certified helmets are designed to absorb the force of the crash rather than resisting the impact. They're tested under conditions that simulate a moderate impact at up to 250 times the force of gravity (250g) . When shopping for own, tug on the chinstrap of the motorcycle helmet to make sure it's solid and not loose or flimsy.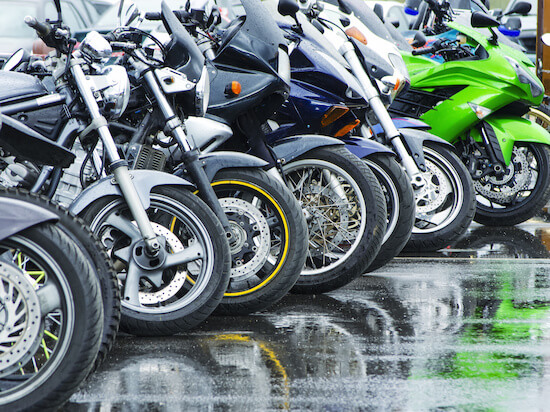 Motorcycle Safety Tip 4: Choose the right bike for you
Supersport bikes have higher driver death rates, about four times that of a cruiser or standard motorcycle. Make sure the bike you're riding is right for your needs. Are you a weekend rider? Do you commute to work with your motorcycle every day? How experienced are you in riding? Are all the bike's elements right for your comfort level and height- handlebars position, sideview mirrors, seat positions? Are you looking for performance or style? These are all questions to ask yourself before you ride!
Riding safety also includes the right paperwork for your motorcycle. For registration renewals, go to etags online for quick and easy process. Just a few clicks, no appointment needed and no waiting in line!