Car ownership can be costly, especially these days when even used vehicles are expensive. A new vehicle this year costs over $45,000, while used cars fetched above $22,000 on average. Then there's auto insurance, high gas prices, and all the DMV paperwork to pay for including a license plate registration.
Use eTags© to Quickly Complete Your DMV Service. Renewals, Title Transfers and More, All Online!
License plates are also known as tags, plates, and vehicle registration plates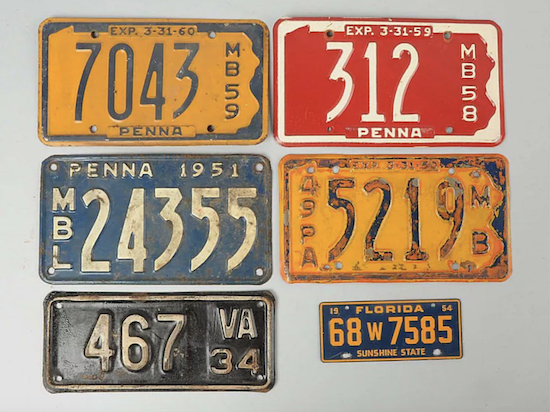 Ever wonder why you're required to attach a license plate (or two, depending on where you live) on your vehicle? Whether you drive a sedan, motorcycle, SUV, RV, EV, or well you get the point, you must register it for a registration card, license plate and probably some kind of decal or sticker. Those are the rules of driving nationwide. But how did it all start?
Turns out New Yorkers have something to do with it!
Well, at least in a more systemized and official way. Collector and historian Keith Marvin reveals in his book that there were prior examples on a local level, and Paris is believed to implement assigned numbers in 1893. But according to a Time article on license plates' history, New York was the first state to require tags by law.
Pennsylvania was the first to issue a personalized license plate in 1931
New York State drivers created their own license plates
In 1901, on April 25th, NY Governor Odell Jr. mandated that motor vehicle owners must register with the state. Of course, back then it wasn't the license plates we know today (alphanumeric metal panel). Drivers were asked to use their initials to create the tags themselves, with letters at least three inches high. Car owners used all sorts of materials to "MacGyver" these plates including metal, paper and leather. Penalties for no tags? $25 according to Cornell University archives.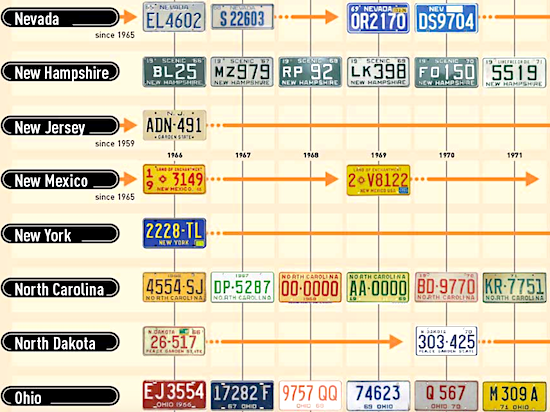 New Jersey required tags by 1903 and so did Connecticut. California joined in two years after that. And so did Nebraska. Alaska drivers didn't need to display their plates until 1921. Hawaii in 1922.  When it all began in 1901, when plates were first required in NY State some drivers painted their initials directly on their vehicles.
SEE ALSO: HOW TO GET SPECIALTY LICENSE PLATE IN FLORIDA
Historically, drivers craved a standard for all and were happy to register
At the time, NY car owners were excited about the license plate enactment. There wasn't a uniform standard for all types of 'transportation.' Laws were hard to follow, and drivers felt they weren't treated the same way, especially with local authorities, as those who got around on horses. In fact, some authorities banned cars from being on the road, or impose a speed of eight miles per hour.
On May 2, 1901 the Times reported: "17 people had already applied for driver's licenses and George F. Chamberlain would receive the first one"
The State then starts to issue drivers with a number
Due to more people behind the wheel, in May 15, 1903 it was the New York Secretary of State who was to assign each registered vehicle owner with a number. New Yorkers were still making their own plates at the time, until 1910 in fact. Massachusetts was the first state to distribute state-issued license plates. According to the historian mentioned above, the U.S. went from having about 8,000 cars in 1900 to 458,377 in 1910.
By April 1902, there was a total of 1,566 driver's licenses in New York State
Today's tags: new registration plate or tag renewal
Registration plate fees vary by state. Colorado for example assesses your fee by age and weight of your car. Utah bases it just on weight. Michigan, on MSRP. Some states' DMV even require an extra fee if you're driving an electric vehicle.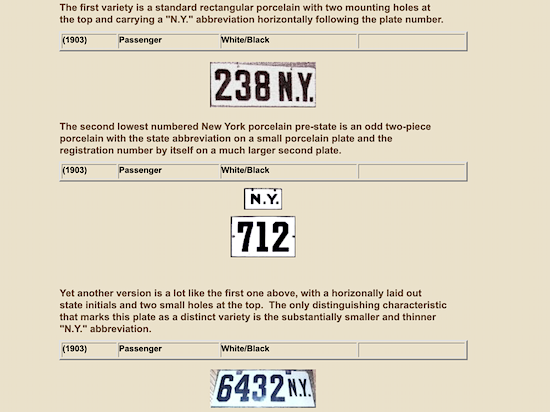 Oregon is believed to have the highest fees, and can go up to $636.50 for a new vehicle license plate. For just renewing the plate after that, the price ranges from $122 to $306 depending on a few factors. California tags are $86, while Maryland's is $135. A new license plate in Florida costs $225.
Arizona has the least expensive license plate fee at $8, but there's an extra $32 to pay for public safety