With over 800,000 registered motorcycles in California, the Golden State has the most riders nationwide. Florida ranks number two, with a little over 500,000 bike registrations. CA also has some of the most scenic roads for that wind-in-your-hair feeling, from the Pacific Coast Highway to the Montezuma Valley Road to Angeles Crest Highway, and more.
Use eTags© to Quickly Complete Your DMV Service. Renewals, Title Transfers and More, All Online!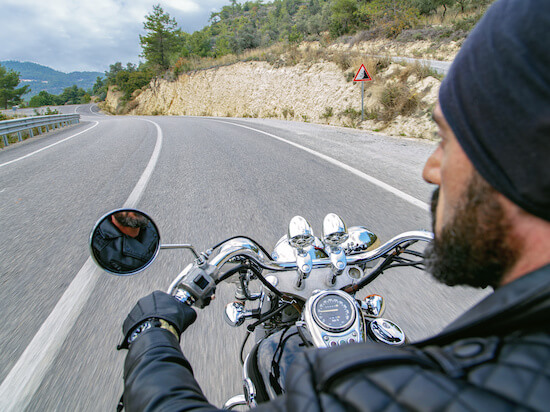 Motorbike CA law #1: Do you have functioning turn signals?
To ride in California, if your bike was built and registered after January 1973, it must have rear and front turn signals that function properly. The bike's handlebars can't position your hands over six inches above your shoulders. Plus, if you bought your motorcycle after 2013, you could get a ticket for non-compliant, aftermarket exhaust systems.
Most motorcycle accident happen on short trips that are less than five miles
Motorcycle CA law #2: What driver's license do you have?
If you're under the age of 18, you must be over 16 years old and hold a learner's permit for at least six months. You also have to complete a motorcycle rider training course. If you're over 18, then you have to pass both a vision exam and knowledge test.
In California, there are three types of motorcycle license giving you access to different types of bikes, such as any two-wheels that could also include scooters, or licenses for those who want to operate a three-wheeler like a trike or even a motorbike with side car. To ride in CA, you'll have to get an M1, M2, or Class C license.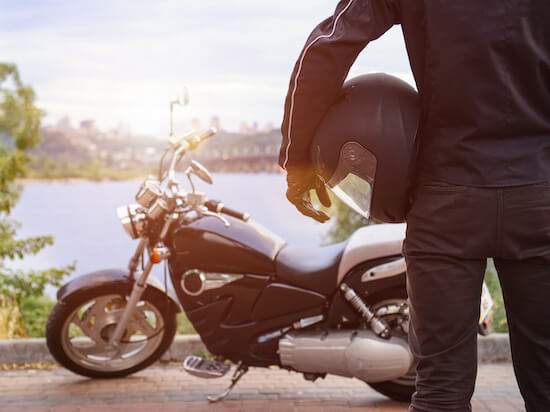 Motorcycle CA law #3: where's your helmet?
CA law requires every motorcycle rider to wear a safety helmet that's approved by the U.S. Department of Transportation, with a DOT-approved sticker on the back of the helmet.
Most motorcycle riders drive slower than 30 mph when an accident happens. At these speeds, a U.S. DOT compliant motorcycle safety helmet can reduce both the number and the severity of head injuries by 50%. A non-approved safety helmet usually has very thin liners and protective padding. It lacks the strength, size, and ability to protect you in an accident.
While not a California law, motorcycle riders are encouraged to wear protective gear such as eye goggles, a leather or long sleeve jacket with reflective material, long heavy pants, over the ankle closed-toe boots, and full-fingered leather gloves
Motorcycle CA law #4: do you have a motorbike insurance?
California requires riders to carry at least $5,000 of property damage coverage, $15,000 of bodily injury coverage for individuals and $30,000 of coverage for bodily injuries inflicted on multiple people. If you don't have insurance for your motorcycle, you can have your license suspended for a year. All the major auto insurance companies also offer two-wheels insurance including All State, Geico, and Progressive.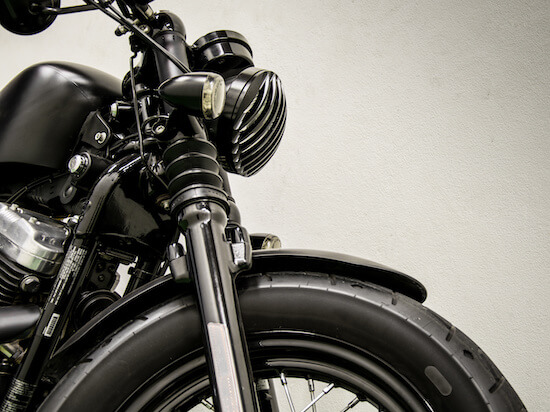 According to ValuePenguin, Geico's average price in CA was $788 for motorcycle insurance— 42% cheaper than the typical annual rate. Esurance appeals a lot to cross-country motorcycle riders because of their trip interruption coverage. So if you're in a motorbike accident or your two wheels breaks down far from home, Esurance will give you $100 of lodging, $50 of alternate transport, and $50 for food per day, until you could ride again. The average annual rate? $955!
Don't forget, your California two wheels must be titled and registered. eTags offers motorcycle registration and titling services online
Motorcycle CA law #5: dis you know lane splitting is legal?
In August 2016, California has legalized lane splitting. So motorcyclists in CA can ride in the space between lanes in order to filter through stagnant traffic. Lane splitting is also known as lane sharing or lane filtering, but it's illegal in all of the rest of the U.S. Motorcyclists are asked to split lanes safely, at a speed of no more than 10 mph faster than other traffic since speeding increases the danger. They're also asked not to do it near freeway on-ramps and exits.