Electric cars, whether mainstream or luxury, are all the rage in 2022. We live in an era where saving the planet is top of mind. The great state of California set the tone by innovating greenhouse gas standards for motor vehicles. 13 states and Washington DC are offering EVs or "clean cars" to be test-driven and ultimately purchased.
Use eTags© to Quickly Complete Your DMV Service. Renewals, Title Transfers and More, All Online!
Florida has a tad over 58,000 electric vehicle registrations
There are over 40 different EV models for sale in America, like the almighty Tesla and the sleek Audi e-tron GT. Certified EV car dealerships are on the rise and coming to a neighborhood near you. The U.S. Department of Energy's Alternative Fuels Data Center says California's light duty electric vehicle registrations – cars, vans, SUVs, and pickup trucks less than 10,000 lbs. – climbed to 425,300 in 2020. By September 2021, the Golden State had 930,811 battery and plug-in EVs.
The average used electric vehicle cost about $35,700; for a new EV in CA is $56,000 as of Dec 2021
But what if you live in a state that hasn't jumped on the EV bandwagon just yet? If you're really keen on a new Hyundai Ioniq 5 but live in Iowa, you won't find one at your local Sioux City Hyundai dealership! Not to worry, if you're serious about getting that Ioniq 5, a little (or a lot) of distance isn't going to stop you, right? Where there's a will, there's a way. Or a few ways! Read on for a couple of options you may take advantage of to purchase an electric car that isn't sold in your state.
Vermont is said to have the highest "charger to population" ratio at 3,780 residents per station
Why are EVs not sold in your state?
EV sales like anything else is a business so along with saving the environment… the object is to make money. Automakers are more inclined to sell electric vehicles in states that have emissions laws that would benefit them. Since California enacted the California air resources board many other states have followed in tow. Part of this law states that a portion of automaker's sales is from low or zero-emission vehicles.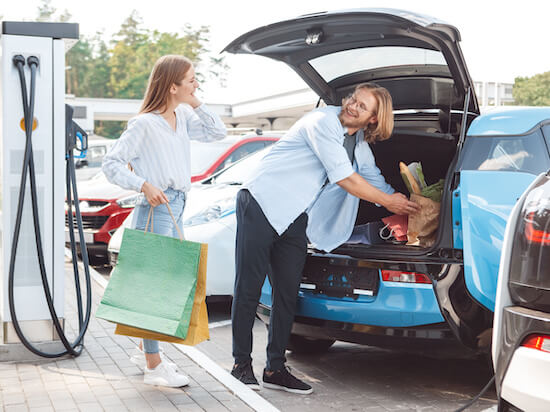 In the latest report from the American Council for an Energy-Efficient Economy, New York, Washington, D.C., Maryland, Massachusetts, Washington state, Vermont, Colorado, Oregon and New Jersey joined the Golden State in leading EV adoption.
Electric cars, trucks, and SUVs are also more popular in big cities. Marketing these vehicles in states like NY, CA, and TX makes more financial sense than setting up shop in Iowa or South Dakota where there are only 45 public EV charging "locations." MyEV.com says Alaska, Alabama, and Louisiana are among the worst states for electric vehicle ownership. Rankings are based on factors like the local cost of electricity, the ratio of charging stations to the population, and EV sales.
Colorado, California, and Connecticut offer special incentives (rebates) to EV buyers on top of the federal tax credit of up to $7,500
It's unfortunate that Louisiana is on that list as it also tops another list for lowest electricity rates among nine other states. Obviously electric cars need electricity and Louisiana, Washington, and Arkansas have the lowest electric refueling costs! Nonetheless, even if it's in Louisiana or Arkansas you can still own your very own electric car. The question is: how?
Buy an electric car through the automaker
You order the electric car you want online and have it delivered to a "delivery center." If you'd like to see the car before buying it, you can visit a delivery center and they may have a gallery. You can't buy it in-house, but you can try it on for size! Many models like Lucid and Rivian are following Tesla's way of doing business when it comes to ordering EVs online.
SEE ALSO: THREE 2022 ELECTRIC PICKUPS THAT ARE ALL THE RAGE

But how does your car land in your driveway if you live in a state where these models aren't sold?
Polestar differs from Tesla in that its local retail spaces are not factory owned, which eliminates state restrictions on car delivery
Three EV (not-sold-in-your-state) delivery options
You can have the car delivered to a delivery center in a state close to you that allows these EV types of sales. You'd just need to arrange to go and pick it up. Disclaimer: Check local state regulations regarding titling and registration for vehicles in your state and in the state where you plan to pick your car, truck, or SUV up. You'll either need to register ahead of time or get temporary plates to drive your new EV home. In some states, there are convenient services like eTags to register your electric vehicle online. This could take a lot of the hassle out of transporting your new EV!
Another shipping option that most EV companies like Tesla and Polestar offer is delivery to an address of your choice within a certain distance. With Tesla, you can have the EV delivered within 220 miles of its own branded delivery center. Every automaker has different limitations. Polestar for example will deliver up to 150 miles from a "polestar space" or showroom.
The third option is using a service like Carrier Direct. CD provides an independent shipper to deliver to you if you're outside of the mileage limits. This is a convenient option but, obviously, the farther you are, the more you're going to pay.
The Tesla Model 3 is the best-selling EV on the market today; said to have more range than any other EV available
Work with a local dealer
If you live in a state where your dream car isn't sold, you can still buy your favorite EV. A dealer would help you get it! Take for example that new Ioniq 5. Right now, Hyundai is only selling the electric hatchback in 26 states with California, New York, and Florida among that list.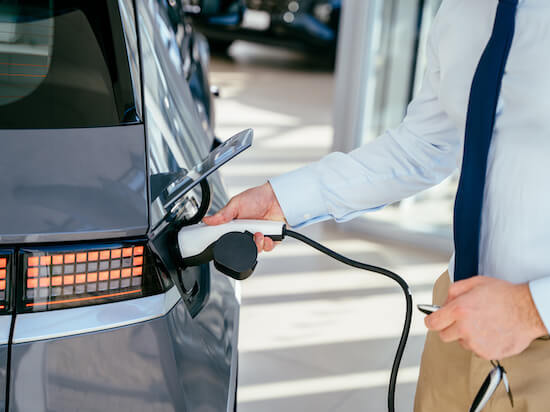 When Cars.com approached the popular automaker, a spokesperson said sure, they want to open up sales across the country but for now, they're sticking to states with zero-emission laws. It doesn't mean you can't own one if you don't live in one of the 26 states on the list, just that you'll have to find a dealership to get one and deliver it to you. It's possible as dealerships trade cars all the time. Just be prepared to pay a premium on top of the sticker price. 
Electric vehicles, in the past, the Fiat 500e or Honda Clarity have been sold more on a local level, so you can't purchase one in every state
Beware: 18 states charge extra for EV registration fees
States significantly depend on the gas tax revenues to fund transportation infrastructure like highway construction and maintenance. Gas taxes are like a road usage fee in a way. EV adoption is threatening that source of income. By end of 2019, 28 states had adopted increased registration fees for electric vehicles, to recuperate some of that (declining) revenue ranging from $50 in Hawaii to $225 in Washington state. Fees proposed in state legislation have been even more varied, ranging from $25 to $1,000.
According to the Nebraska Petroleum Marketers and Convenience Store Association, NB brings in an average of $284 million in fuel taxes annually
Nebraska may double their EV registration from $75 to $150 by 2027; half of the Cornhusker State revenue comes from fuel taxes (Highway Trust Fund). In Virginia, EV tags come with an annual tax of $64. Georgia drivers pay anywhere from $200 to $300 every year to keep their plug-in (PEV) on the road. This year, 30 states levy extra registration fees on battery-electric cars, with another 14 also levying extra fees on plug-in hybrids, according to the National conference of State Legislature.
If you choose to purchase an EV out of state, don't forget eTags can help you title and register the vehicle online!