As the year comes to a close, and the FDA authorizes the use for the coronavirus vaccine, the economy is still a rollercoaster ride. In the automotive industry, the pandemic has affected every part of the cycle, from production to distribution, even inventory, and of course sales. In fact, in October, automotive technology company PureCars revealed car dealerships had 25% less inventory due to pandemic-related factory closures.
Use eTags© to Quickly Complete Your DMV Service. Renewals, Title Transfers and More, All Online!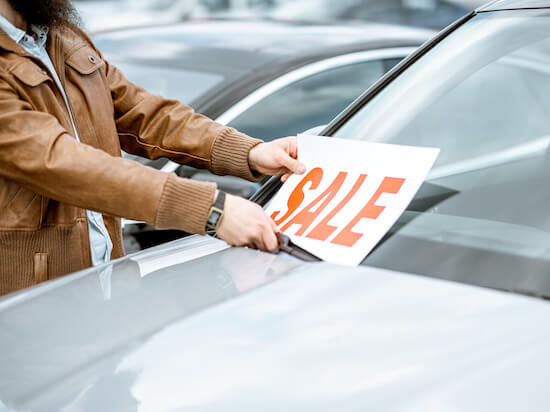 Buying a used vehicles can cost you over $2,000 more this year
According to a report by iSeeCars that analyzed 1.2 million used cars, the average price increase for used cars is $2,193 compared to 2019. Vehicles analyzed were from 2015 to 2019 models, as well as 1.3 million used cars from model years 2014 to 2018. Since car dealerships have less inventory, prices for used vehicles went up.
The overall used car price hiked up by 9.5% in 2020, with coupes and convertibles having the greatest increase
Used two-door vehicles, convertibles and sports cars
That same iSeeCars study revealed that used coupe car models had an average of 15.9% increase or $5,325 more per car. Used convertibles went up by 27.2%, that's about an increase of $10,429 in price. Specifically, a used Ford Mustang convertible cost 18.6 % more, while a used Chevy Camaro is up18.4% from 2019.
SEE ALSO: USED CAR INSPECTION GUIDE
Aside from low inventory increasing demand for speedy used sports cars, drivers who buy them aren't as price-conscious as other car shoppers so budget is less of a factor. No one really needs a sports car, but they do want them. Back in July, USA Today reported that pricing was already up $1,369 for sports cars.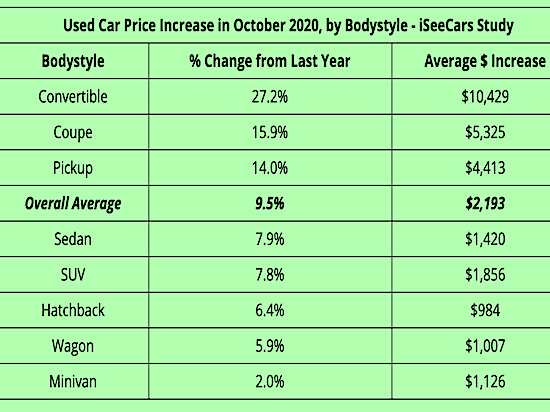 Used trucks, SUV's and pickups
Truck sales have been growing since the beginning of the pandemic, especially since many people were laid off or furloughed and working for themselves while others were taking on home renovations needing to haul materials and more. Camping also became more popular, pushing higher sales for pickups and trucks.
Buying a used Mustang convertible now, is on average, $3,997 more expensive than last year. A used Camaro is about $4,455 more costly than in 2019
Used pickups grew 14%, while used SUV sales prices grew 7.8%. But it's the used Ram 1500, the used GMC Sierra and Chevy Silverado 1500, plus the used Toyota Tundra that had the highest hikes in purchase prices. The average used Ram 1500 jumped $5,900 in price in 2020 compared to 2019, while The GMC Sierra 1500 cost over $6,000.
SEE ALSO: CERTIFIED PRE-OWNED VEHICLES-MANUFACTURER CPO VS. DEALER CPO
The BMW 5 series had the greatest increase in pricing, 25% more than last year
Used vehicles that dropped in price
Even though, in general used vehicles are costing more theses days, there are some vehicles that decreased in price. If you're on a budget, it may be worth it to take a close look at the Chevrolet Volt and the Nissan Rogue Sport, down 8.4% and 3.7% respectively. The Dodge Dart will cost you $443 less, while the Ford Ecosport will save you $1,479.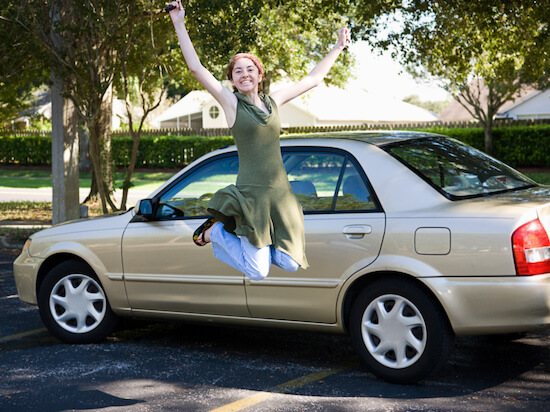 The used vehicle with the greatest price decrease is General Motors' Chevrolet Volt plug-in hybrid vehicle, which is not being produced anymore. There's a small price drop for three luxury SUVs including the compact Buick Envision, the midsize Cadillac XT5, and compact Porsche Macan for $940 less than last year.
Minivans had the smallest price increase of just 2%
Should you need to title or register a used vehicle, don't forget eTags can help you process your transaction all online. No need for making an appointment with your local DMV. If you live in California, Florida, Pennsylvania, or Maryland, we can help.