Drivers nationwide love to personalize their cars which is not surprising since most spend a lot of time in it. In fact, the average American spends over 330 hours per year commuting to work (Zippia). From eyelashes on headlights to cup holder trash cans, to portable car desks, rearview trinkets, dashboard hula girls and more.
Use eTags© to Quickly Complete Your DMV Service. Renewals, Title Transfers and More, All Online!
One favored accessory is the vanity license plate aka custom license plate. Some drivers display their nickname, interest, or catchphrase. But in Florida, just like in most states, the personalized license plate you want is not guaranteed. It can get rejected.
Florida drivers who notice an obscene plate on the road can file a complaint to their local tax collector's office or contact the FLHSMV
"VIAGRA" personalized plate got denied
If the Florida Dept. of Highway Safety and Motor Vehicles determines your alpha numeric combination is obscene, the Dept. will not produce your vanity license plate. The FLHMSV reviews submissions for objectionable or explicit language such as "OL TURD" or "NUDLIFE," and "PHATASS." Excuse the language! In 2022, over 500 personalized plates were rejected in Florida.  "LIL SHIT," "SHETBOX," "SUCKA, and "TIDDIES" vanity plates didn't get pressed.
SEE ALSO: "POO BUTT" AND 758 OTHER REJECTED OHIO PLATES 2022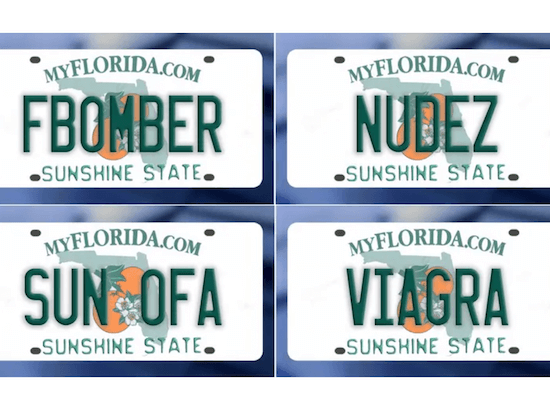 Your vehicle must be registered in FL
To get a Florida personalized tag, your vehicle must be registered in the Sunshine State. So if you're new in town and have an out-of-state vehicle title, you must transfer it first to FL title, then register the vehicle and request your vanity plate. And if you lost your car title, just order a duplicate title (title replacement).
"LUCKYAF" didn't make it past Florida state censors in 2021, neither did "1ANGRYB"
Get your personalized and/or specialty plate online
If you want to skip your trip to the FL DMV or tax collector's office you can order your personalized tag with eTags online. The tilting and registration company shares the same regulations as the DMV, so you won't be able to personalize "FAAART" or "HIT M4N" for example. But if your custom plate isn't deemed obscene, you can order one online. The process is simple, just a few questions to answer such as your license plate number, vehicle year, and of course, the alphanumeric combination you want.
Florida has over 100 specialty plates helping to raise funds for a variety of interests and nonprofits
With eTags, you can combine your custom license plate with a specialty tag that supports a cause you're passionate about. Think "End Breast Cancer," "Salutes Firefighters," and "Protect Our Oceans." A December 2021 Miami New Times article mentioned Florida gets a large portion of its funding for endangered wildlife programs including FL Panther Program and FL Manatee Program, thanks to specialty tags.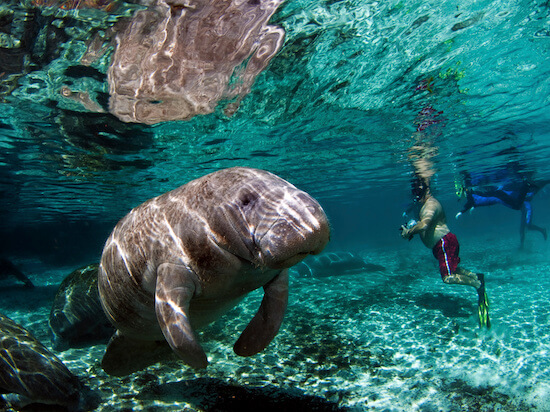 In Florida 1906 only 174 vehicles were registered, most of them powered by steam
These specialty license plates brought in $3.4 million for panthers during the 1998-99 fiscal year and $2.6 million for manatees during the 1999-00 fiscal year. But these days, for the 2020-21 fiscal years, the panther plates brought in just under $1.1 million while the manatee plates brought in $1,023,835 — the lowest year on record. Funding is lower now since there are much more plates than before; from about a dozen in 1987 to 120 today.
How would you personalize your plate and which cause do you prefer to support?