The Sunshine State has plenty of ways for all its (over) 15 million licensed drivers to show off their love for their vehicle. How you ask? Specialty license plates! There are countless ways to support the organizations, causes, passions, and even sports team in FL just by hanging a "Discover Florida's Horses" or "End Breast Cancer" tag on the back of your car, SUV, crossover or pickup truck.
Use eTags© to Quickly Complete Your DMV Service. Renewals, Title Transfers and More, All Online!
Florida driver raised over 1.6 million
In 2020, over 1.68 million specialty plates were sold to Florida drivers. Together, they raised over $35 million for charitable organizations. The Dept. Of Highway Safety & Motor Vehicles says that if you account for FL drivers who registered their vehicles for two years, that $35 million turns into $41.5 million during the first pandemic year — a year with 430 billion miles LESS traveled in America.
As of Feb 1, 2002, FL has  1,872,669 active specialty license plate registrations
New "Explore Off-Road" FL license plate
For the license plates to actually be produced, so all FL drivers can have a chance to support a certain cause, there has to be at least 3,000 license plates ordered. Call it a pre-order sale if you will. The latest one to be designed celebrated the off-road culture in Magic City.  That's right! Jeep lovers and the like can rejoice and show their passion for their 4 X4 off-roading.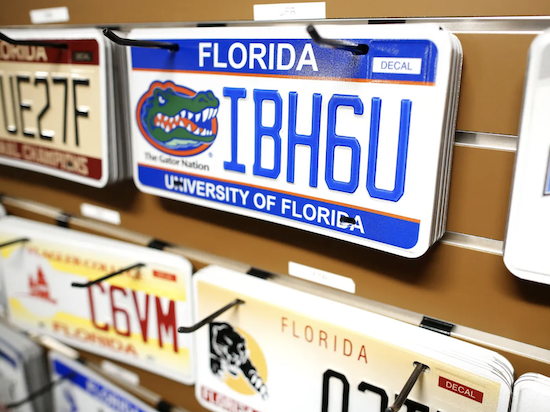 According to the Orlando Sentinel, the "Explore Off-Road" FL license plate is raising funds for the nonprofit FL Off-Road Foundation. This 4 X 4 community is all about off-road culture, with a mission to share it with Floridians. The @floridajeepjam promotes responsible use of off-road environment, support search + rescue volunteering and restoring the home to "Miami Dolphins" off-road trails through organized cleanups, restorations, and expansion.
In 2020, "Endless Summer" was the most popular specialty plate in Florida with 93,986 sold; now the tag is on over 111,500 FL vehicles
May 10-14 Jeep Week Celebration in FL
Event organizer Mark Wayne Hess, helped create the Florida Jeep Jam in Panama City Beach community. The Instagram account has over 5,000 Jeep and 4 X4 enthusiasts. The Jeep wavers even have a dedicated website, with regular events in the Sunshine State. The upcoming one is from May 10-14,2022. The 7th annual Jeep Week Celebration  has more than 2,000 Jeep drivers getting together to compete in obstacle courses, dunes excursions, turtle crawls, concerts, drive-in movies, beach days, contests, Jeep car washes and plenty more.
If you're a Florida driver that has bought a voucher for this "Off-Road" tag, know that you'll get a notification from the state of when to pick up your license plate. You can buy the "Explore Off-Road" FL license plate in the 67county tax collector agency offices or renew your registration online with eTags and never have to drive anywhere. Save that gas! eTags offers specialty license plates via online, thru an app, laptop, computer, or just about any device you can access the internet on!
In FL, the University of Florida's Gators tag is the most common educational plate; the Florida State University ranks as fourth most popular FL vehicle plate
In Florida's Charlotte County, the second most popular specialty license plate is"Protect our Reefs," mostly because funds go to Mote Marine Laboratory & Aquarium. The (nearby Sarasota) Aquarium has a marine institute, more than 20 research programs, internships and more. MOTE even has "Adopt an Animal" programs where you can choose from an alligator, jellyfish, manatee, octopus, otter, seahorse, sea turtle or shark.
SEE ALSO: HOW TO GET SPECIALTY TAG IN FL, ONLINE OR DMV?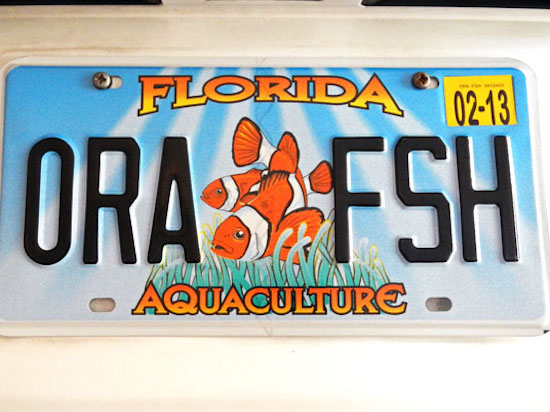 Florida plates with over 1,000 pre-sales like "Ducks Unlimited," and the "Bonefish and Tarpon Trust" have 'til Sept. 30 to achieve the preorder 3,000 tags threshold or become delisted and never produced
1987: the first year with a FL specialty plate
The first specialty tag in Florida was the "Challenger" plate issued in January 1987, honoring astronauts who died when the space shuttle Challenger exploded. Today, the Sunshine State has 126 specialty registration plates. By law, Florida can't have more than 150 specialty plates total. So every year, FL delists the license plates preforming the poorest.  
This year has 1,872,669 active specialty 2022 vehicle registrations as of February. Some of the top tags include "Endless Summer" tag with 111,591 registrations, Helping Sea Turtles Survive with 98,644, the "University of Florida" with 93,997, "Florida State University" with 70,731 and "Miami Heat with 61,202".
So…which cause are you supporting with a specialty plate?