Many people choose the option of leasing as a smarter way to "own" a car. There's no doubt it comes with plenty of benefits. When you lease a vehicle, you always have the luxury of driving newer vehicles with all the latest technologies. There are a variety of car lease terms, from as little as 24 months to 48 months. At that point, you may prefer to return your vehicle at the end of the term for a newer or different model.

Some people argue, pay to use the car, not for the fantasy of ownership
There's no reason to pay for the future value of the car. The amount of buyers who use automakers' finance arm, like Honda Financial Services or Chrysler Capital, and choose to lease has gone up from 31% to 52% year over year, according to industry analyst J.D. Power. But what happens if you love your leased car and you want to keep it? You have options!
Use eTags© to Quickly Complete Your DMV Service. Renewals, Title Transfers and More, All Online!
If you've surpassed your mileage limit, or have excessive wear and/or damages, a car lease buyout can help you avoid associated penalties
What is a lease buyout: two options
Well, technically, a lease buyout can be one of two things. A "lease end" buyout is an option to pay what the vehicle is expected to be worth by the end of the lease period. At this point you become the new (old) owner of the vehicle. Usually, the buyout amount is decided long before the moment when you sign the lease agreement. This is the more common option.
The second option is an "early lease buyout." It allows you to buy your leased vehicle before the lease contract expires or, "early." Early lease buyout is not always allowed in every lease contract, but some common reasons that folks take this option are when there's a lot of wear and tear on the car or even just the looming risk of going over their allotted mileage. The penalties for this could be pricey and buying out your lease early may be the more economical option.
If you choose to keep your car, you must pay the residual value amount, plus any applicable taxes and Department of Motor Vehicles (DMV) fees
When is the best time to decide on buying out your leased vehicle?
The jury is still out on this one. Buyouts may be prohibited in the first few months or the last few months of the lease term. Read your lease contract to determine if you have any such restrictions or call your car dealership directly.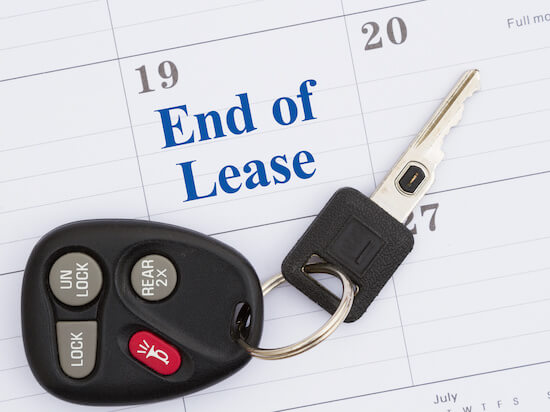 One thing is for certain, there are some markers to check off to help you know when and if to buy out your vehicle lease. Number one and most important, do you love the vehicle? Has it been good to you throughout the life of your lease? Has a possible lease buyout amount been included in your lease agreement? What is the fair market value of your vehicle now, and does purchasing it make financial sense?
In the last few months of 2020, The average American made a $460 monthly lease payment for a new vehicle
Does it make financial sense?
That last question is a good one. Here are a few helpful tips:
1. Determine the car lease buyout amount or purchase price. This was likely set up when you signed the lease agreement.
2. What is the condition of the vehicle? What's the mileage? Calculate the cost of the penalties related to going over the allotted mileage and the maintenance for the car. This is to be factored in.
3. Are there other similarly priced vehicles on the market you want to consider? Maybe there's something newer or different to consider if it's within your budget!
4. Can you get proper financing? Unless you're prepared to pay the lump sum of your buyout amount, you'll need to be financed. Check the interest rates at a few different lenders to see what makes the most sense.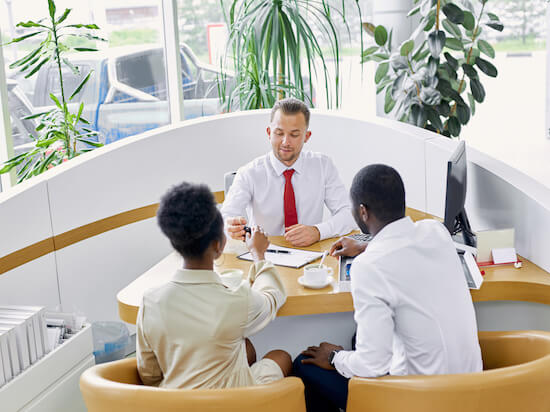 Incidents like multiple insurance claims can diminish your vehicle's value
Keep your game face on
Another good tip regarding the "when" of it all, is a bit more literal. About three months before your lease is due to end, you're likely to be contacted to find out what your intentions are. If you seem too eager, a dealer or leaseholder may take that as a position of power in negotiations. Wear your poker face!
Dealerships have the option to buy out the lease themselves before sending the car to auction. If a car dealership can sign you up for another lease, take your vehicle in as a now used car, it'll double their profits so, they will. If you're in a position to negotiate, the idea is to give the dealer or leaseholder just a tad over what they would get at auction. Once they take the vehicle back from you, it depreciates about 20% in value. So anywhere between 1% and 19% is your sweet spot for negotiations.
Vehicle paperwork and title transfers
If you think you want to buy out your car lease, make sure you understand your options and how to determine what works best for you and your situation. Something else to consider is how to handle the paperwork after the buyout. In most states, after a successful car lease buyout, the leaseholder will send you the title and a bill of sale/lease buyout paperwork.
SEE ALSO: TITLE TRANSFER GUIDE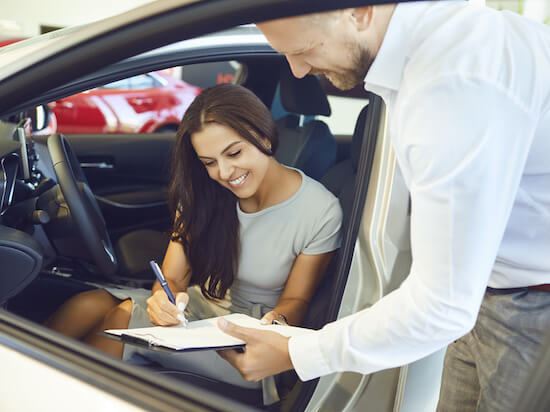 Once you have these documents, you may be able to use a company like eTags to complete the transfer of your title! Remember you (or your bank) are going to be the new owner(s) of the vehicle. This requires a transfer of the title to the vehicle and in some cases adding a lienholder. While all states have different requirements when it comes to this transaction, eTags may be able to help. You'll find the customer service agents are super knowledgeable about lease buyouts and how they relate to title transfers. They will surely be able to head you in the right direction.