From India's Zoji La Pass (above) to Transfagarasan in Romania, we explore some of the most dangerous roads in the world.
Photo Credit
---
What are the most dangerous roads in the world?
Use eTags© to Quickly Complete Your DMV Service. Renewals, Title Transfers and More, All Online!
In the United States, we take for granted the (mostly) driver-friendly roads that make commuting (relatively) safe and convenient, at least in the context of the landscape. However, around the world, defying death is a daily endeavor for many. Traversing the world's most dangerous roads is a requirement for many who must navigate the only path to their destination out of necessity.
If just looking at heights makes you queezy, reader beware. If you're one of the many whose stomach gets turned upside down just looking at the scariest bridge in America, get ready for an entirely new level of 'nope'.
Here are the top 24 most dangerous roads in the world.
The Apache Trail Scenic Drive, Arizona, United States
Photo Credit
Apache Trail Scenic Drive, Arizona, United States
While this is one of the most breathtakingly beautiful drives in all of the United States, Arizona's Apache Trail can be unforgiving to drivers whose attention wavers from roadway to surrounding landscape.
Cutting through the Superstition Mountains, this scenic excursion requires a turtle's pace and laser focus while winding back and forth up the mountain road. Steep cliffs, lack of guard rails, distracted drivers, and heavy traffic all make this one of the most paradoxical pathways on our list.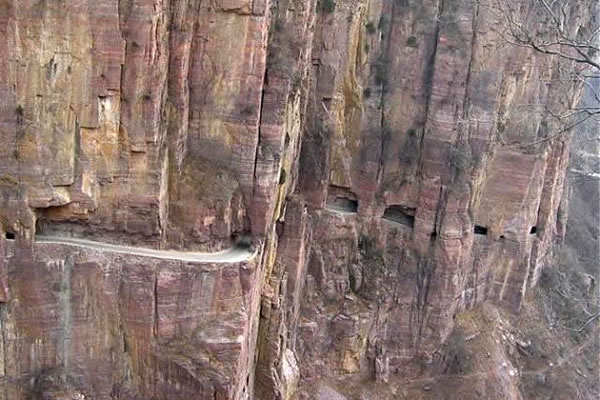 Guoliang Tunnel, China
Guoliang Tunnel, China
A 1,200 meter long tunnel which bores a mountain, the ominously dark conditions of China's Guoliang Tunnel put it in the running for our most dangerous roads in the world.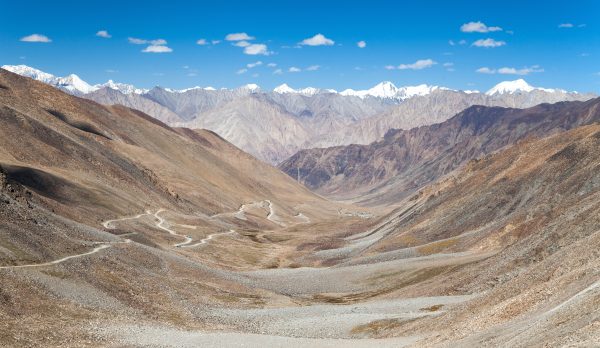 Khardung La Pass, India
Khardung La Pass, India
Rock slides are a serious concern for drivers on the Khardung La, and can turn a leisurely drive along the tallest pass in the world into a serious nightmare at the drop of a hat.
Eshima Ohashi Bridge, Japan
Eshima Ohashi Bridge, Japan
Built to help ships easily pass underneath, Japan's Eshima Ohashi Bridge is is the largest rigid-frame bridge in the country and third largest in the world. While it may be convenient for captains, drivers must face dangerously steep angles across a very short distance.
Dalton Highway, Alaska
Dalton Highway, Alaska
Deep within the Alaskan wilderness, Alaska's Dalton Highway is known for being one of the coldest and most isolated roads on the planet. Navigate the always-icy conditions with caution and don't get stuck here during a snowstorm (easier said than done).
Atlantic Ocean Road, Norway
Believe it or not, the above photo is 100% real (we didn't believe it ourselves at first).
Crossing an archipelago, Norway's Atlantic Ocean Road presents intense driving conditions. The Atlantic Ocean often rises and will meet drivers with a welcoming wave crashing upon their vehicle.
Yungas Road, Bolivia
Yungas Road, Bolivia
When it comes to raw data, Yungas Road is undoubtedly one of the most dangerous roads in the world. Responsible for 200-300 deaths every year, Bolivia's Yungas Road is known for abnormally low visibility caused by thick fog. If drivers are not careful, they might find themselves jetting over the side of a cliff.
Caucasus Road, Russia
Unpaved and difficult to navigate, Russia's Caucasus Road is particularly narrow. Dissecting a mountain, this road is particularly dangerous during snow or rain.
Le Passage du Gois, France
This unique road cuts through the water but drivers should heir on the side of caution, even during low tide. Driving along France's Le Passage du Gois might find your car getting smacked around by a rogue wave, if not completely submerged, should timing be off.
The Trans-Siberian Highway, Russia
Running from Vladivostok to St. Petersburg, Russia, The Trans-Siberian Highway is one of the longest highways in the world despite being, mostly, unpaved. One rainy day can cause problems for countless drivers.
Hana, Hawaii
A scenic drive nestling the edge between ocean and mountain, drivers must be aware of imminent landslides that could happen at any given moment. Nevertheless, many drivers still go for the scenic views and lush forest greenery.
Stelvio Pass, Italy
Stelvio Pass Road, Italy
A 2.7-kilometer (1.7-mile) road in the Italian Alps, Stelvio Pass is widely considered to be the most winding road in the world. This road will provide a challenge for even seasoned drivers and requires high levels of maneuverability.
Sichuan-Tibet Highway, China
Sichuan-Tibet Highway, China
Poor weather, avalanches, and rock slides contribute to record-setting (and mind-blowing) statistics. Car accident deaths have doubled in the past two decades and official government numbers declare 82,000 road deaths on the Sichuan-Tibet Highway, or 5.1 per 10,000 vehicles.
A44, United Kingdom
A44, United Kingdom
Responsible for a large number of head-on collisions, A44 runs from Oxford to Aberystwyth in the United Kingdom. While it might seem like your normal, everyday thoroughfare, the A44 has a trick up its' sleeve which catches many drivers off guard; A44 actually changes which side of the road is driven on, causing confusion – and ultimately accidents – for many unfamiliar drivers.
A537, United Kingdom
A537, United Kingdom
The second English expressway on our list, this scenic road was recognized by the United Kingdom's Road Safety Foundation as one of country's most dangerous roads in 2010. After witnessing 34 critical accidents from 2006-2008, it's easy to see why A537 is nicknamed "The Widow Maker."
US Route 431, United States
Colloquially known as the "Highway to Hell," US Route 431 is one of the most dangerous roads in the United States. Running 556 miles from Kentucky to Alabama in the southeastern region of the country, Route 431 might not seem dangerous until yourself driving it.
Narrow lanes and fast lane changes make this one deserving of your full attention at all times.
Luxor-al-Hurghada Road, Egypt
Drivers on this road have more to worry about than the absence of pavement. With bandits camped throughout the area, Luxor-al-Hurghada Road's main threat is one of the few on our list where safety precautions and distracted driving might not make a difference.
So many robberies have occurred on this road that most drive without their headlights on throughout the night. On top of criminal activity, this has caused numerous head-on collisions and fatal accidents over the years.
Patiopuolo-Perdikaki Road, Greece
Patiopuolo-Perdikaki Road, Greece
Lack of guardrails and disregard for maintenance make Patiuopuolo-Perdikaki Road (say that 5 times fast) one of the most dangerous roads on our list. Conditions can become quite dicey when the elements are introduced into the equation.
The Road to Fairy Meadows, Pakistan
A 10-kilometer (6.2 mile) road leading to "the killer mountain," Pakistan's Fairy Meadows Road is incredibly beautiful though extremely narrow and dangerous.
Zoji La Pass, India – Photo Credit
Zoji La Pass, India
It may not be the most dangerous road in India, but Zoji La Pass can definitely be one of the most unexpectedly difficult to navigate if not planned for in advance. Vehicles on this road need to share the road with livestock, which can be unpredictable at best.
Ruta 5, Arica to Iquique Road, Chile
A flat and open road, there's nothing that makes the Arica to Iquique visibly dangerous. It is, actually, the complete opposite; the journey is so under-stimulating that drivers notoriously lose focus and get into accidents due to falling asleep or not paying attention.
Transfagarasan, Romania
Transfăgărășan, DN7C, Romania
Romania's highest road in terms of altitude, Transfagarasan lures drivers with scenic views but can also be incredibly dangerous if not navigated with caution.
Cotopaxi Volcano Road, Ecuador
A 40-kilometer (24.9 mile) dirt road, Cotopaxi Volcano Road runs from the Pan American highway to the Cotopaxi Volcano National Park. Slippery conditions stifle this poorly maintained long road, making this passage a challenge for even the most experienced drivers.
R504 Kolyma Highway, Russia
With a welcoming nickname like Road of Bones who wouldn't be itching to put the petal to the floor on Kolyma Highway? Built by prisoners in 1932 and only completed in 1953, this road fits the bill of scariest roads in the world. Named after the skeletons of all the laborers who died during construction, this road falls in the geographic location where the coldest temperature ever outside of Antartica was recorded.
You can't get more dangerous, or scary, than a road that literally translates to "death road." Unfortunately for locals, this is the only passage in the region.
Is there definitively a 'Most Dangerous Road in the World?'
It really depends. Some are high and narrow, some battered by extreme climate, and others have criminals posing constant threat. Each has varying degrees of danger but, nonetheless, you won't find us driving along these roads any time soon.
Regardless of where you find yourself driving, we hope you stay safe.
Which of these roads seems like the most dangerous to you?
Have you ever driven any of these? Let us know in the comments below!