Americans are feeling the cost of Russia's invasion of Ukraine at the gas pump. Gas prices were already higher than usual, with some drivers blaming President Biden for his energy policies. But the price of gasoline had already been going up before the invasion on February 24th.
Use eTags© to Quickly Complete Your DMV Service. Renewals, Title Transfers and More, All Online!
Beware of gas stations asking for more per gallon, many are still selling the oil they already have in reserves
The blame game for higher prices at the pump
Cost at the pump has been rising every day since Saudi Arabia and Russia were producing less fuel than they promised CNN reported. Another reason cited for the hike in prices is the President's call to cancel the Keystone XL pipeline and halt drilling on federal lands in the hopes of fighting climate change.
The U.S. imports less than 4% of Russian crude oil and purchases nationwide only account for 9% of Russian exports, so banning imports wouldn't have a big impact. The US doesn't even import any Russian gas. Others, such as the Boston Globe, blame the nation's infrastructure problems on the pandemic for the high gas prices in the U.S.
17% of greenhouse gas emissions come from transportation
By March 8th, the national gas price was 72 cents higher than last month
According to the American Automobile Association (AAA), the national gas price on March 8th was 72 cents higher than last month, and 55 cents higher than the average price recorded the week before. By March 10th, the national average for regular unleaded was $4.13. In New York it was $4.46.
In Massachusetts, prices are still the most expensive on the Islands: Nantucket County's average gas price was $4.99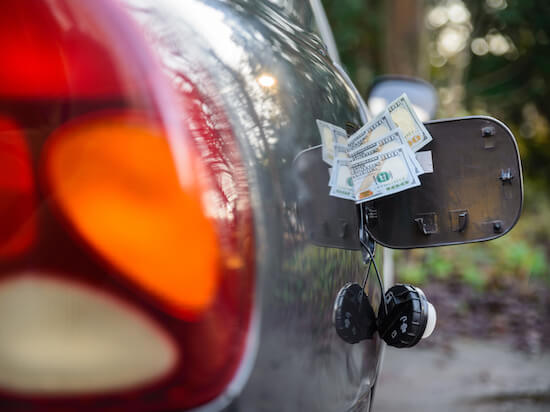 Three days before that, Massachusetts broke record with an average of $4.16 per gallon of regular unleaded gas. The last record was set during the Great Recession of 2008 when the average reached $4.09 per gallon. As of March 9th, the AAA says California, Hawaii, Nevada, Oregon, Washington, and Alaska had the highest gas prices with an average of $4.25 per gallon. Why? About 50% of the Russian-imported oil (to the U.S.) goes to these Western states.
California is the only state where a gallon costs over $5
California is the only state right now where a gallon costs more than $5—the current average is $5.69 for regular, $5.97 for premium. In Los Angeles and San Luis Obispo, the average price of regular unleaded now exceeds $5.50. San Francisco gas stations are selling regular gas for $5.69. In Oakland, regular unleaded will cost you $5.76/gallon, while diesel will set you back $6.26/gallon. Stockton gas stations are posting $6.23 for diesel.
California produces enough gasoline to meet 30% of its needs, and the rest is imported from Alaska and other countries
But why is CA fuel more expensive than the national average?
The Golden State's higher gasoline prices are partly due to taxes on motor fuels and regulatory programs designed to reduce greenhouse gas emissions like carbon dioxide. California regulations instruct refiners to follow specific gasoline formulas to reduce air pollution when the temperature is high. Together, these requirements added $1.27 to the price of a gallon of fuel in February, the Western States Petroleum Association.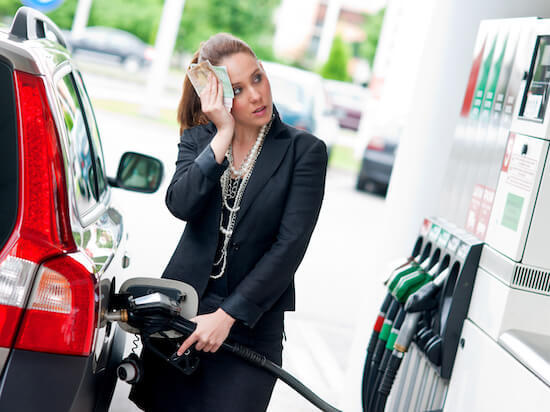 About 40% percent of that $1.27 addition came from the state's gas tax. According to the Federation of Tax Administrators, California taxes fuel at 51.1 cents per gallon–the second-highest amount in the nation after Pennsylvania.
America produces 11.6 million barrels of oil per day
Gasoline is one of the most prevalent refined products derived from crude oils in the U.S. America gets most of its crude oil from Canada; 4 million barrels per day to be exact. U.S. refineries produce about 19 to 20 gallons of motor vehicle gasoline for every 42-gallon barrel of crude oil. Mexico exports 492,000 barrels/day, while Saudi Arabia and Iraq export a combined 695,000 barrels per day to the U.S. too.
But America is the top producer of crude oil, thanks to the fracking boom, producing 11.6 million barrels of oil every day. The U.S. is also the largest consumer of oil too, at about 21 million barrels per day in 2019. The US Energy Information Administration says there's an estimated 38.2 billion barrels worth of oil reserves still untapped in America. However, the oil is lighter and different from the heavier imported oil U.S. drivers rely on.
What can be done to help drivers hurting at the pump
According to Yardeni Research, the average American household would spend about $3,100 on gasoline in 2022, based on price levels in December 2021. For things to get better in the long term, the global economy must reduce its dependence on fossil fuels. A Vox news article titled "How High Can Gas Prices Go?" reports America has the most control in helping consumers deal with energy bills, by addressing demand.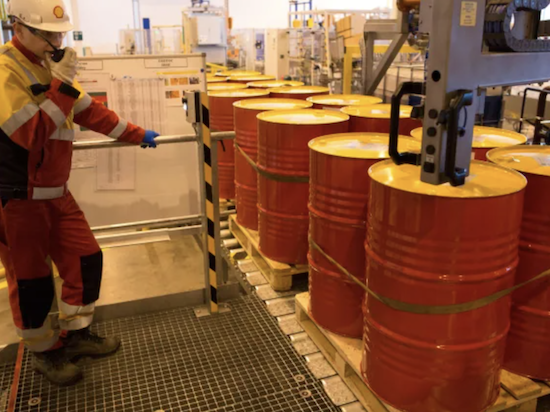 Efforts such as thermostat adjustments to conserve energy, creating more funding and tax credits for electric cars and hybrids, replacing boilers with heat pumps across the manufacturing industry, boosting fuel efficiency standards, replacing public transport fleets with electric buses, and more.
Nevada drivers are paying about $4.87 per gallon for regular gas and $5.24 for premium