Driving is a huge responsibility and like with anything else the more experience you have the better you get. There's plenty to think about when you're behind the wheel from sharing the road, to habitually using turn signals, shifting speeds depending on weather and so much more. Focus, coordination, and a calm mindset are crucial.
Use eTags© to Quickly Complete Your DMV Service. Renewals, Title Transfers and More, All Online!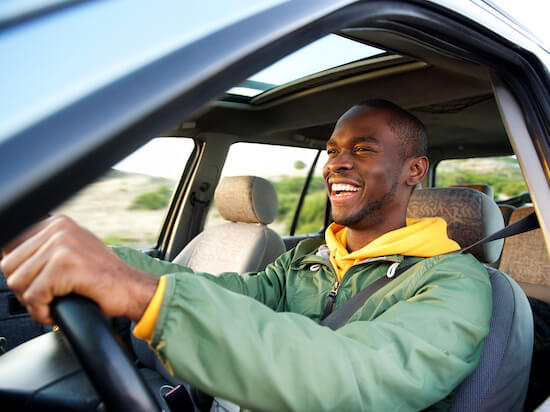 The recent deadly floods in Kentucky are a reminder of just how much can go wrong when driving. Roads can quickly become inundated; even a foot of flooding water can push cars underwater. And although flash floods aren't common, drunk drivers, distracted motorists, bad weather, and overturned vehicles are. While you can't control all of it, you can control your own driving behaviors and how you react to a bad situation.
If there's a tornado approaching and traffic is light, try driving out of its path by driving at a right angle away from the vortex
How to survive flood water when you're driving
The flash floods in eastern Kentucky mentioned above killed 37 people including six children. Fox News Auto reported that dozens of Americans die each year due to flooding and promoted a few simple survival steps if you find yourself in flooded waters while still in your vehicle.
• Never drive through water that's more than halfway up your vehicle tires, even if it's an SUV or truck. Since "halfway" is deep enough to cause the vehicle to float and get swept.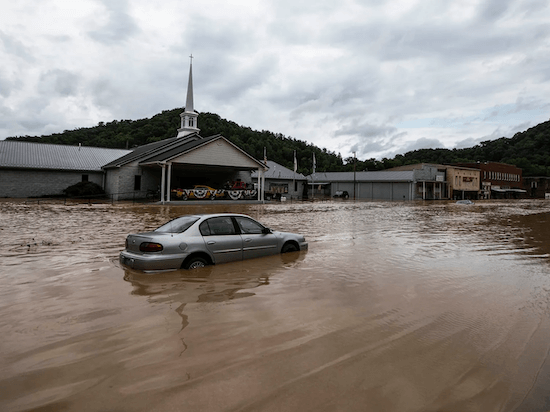 • Unbuckle your seatbelt so you're prepared if the vehicle flips over

• Open the window a bit before you lose power, but not all the way down so you can keep water out as long as possible
• If the car starts to fill up with flood water, try to get onto the roof of the vehicle instead swimming away in the water. Being elevated on the roof will protect you for longer and make you more visible for rescuers
• To make it onto the roof, roll the car window down all the way at this point. If you can't roll it down, try striking it hard with something you have access to. You can remove your front seat headrest and use the bottom posts to strike the window glass
• Then hold onto the seatbelt in case you slip as you try to make it onto the roof, use your seat, armrest, and windowsill to step up to the vehicle's roof
• If you can't make it onto the top of the car, then swim to the closet high ground or grab something sturdy that doesn't move in the water.
SEE ALSO: DRIVING SAFETY FOR NIGHTTIME DRIVERS
In emergency situations, you always want to move the steering wheel fast, but smooth since jerking it can lead to loss of traction and result in a car spin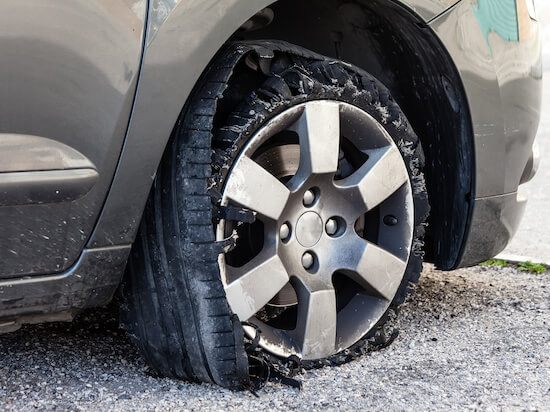 How to survive a blown tire when you're on the road
Tire blowouts can happen when your vehicle is overloaded, if the tire has a small puncture or anything that allows air to escape over time until it ultimately fails. When tire pressure gets too low, the side of the tire will flex more and overheat. Then the rubber loses its bond "to the internal fabric and steel cord reinforcement." So how do you stay safe while trying to avoid a collision
• Keep a firm grip on steering wheel, and steer ahead
• Release the gas pedal, but don't brake immediately
• When you feel you have the car in control, brake gently
• Pull over safely and call for help
Front tire blowouts typically make steering difficult and may even pull your vehicle in a direction you don't want to travel in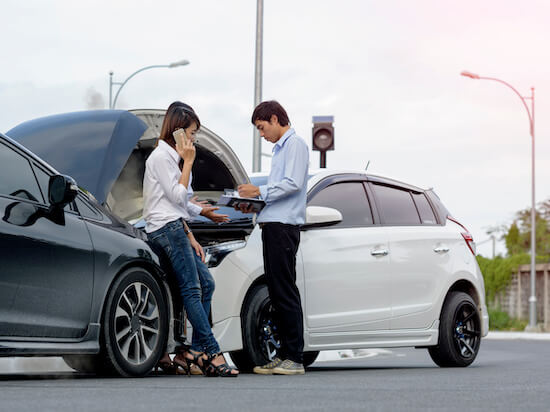 How to survive an oncoming vehicle
If a vehicle is coming straight toward you, in other words, an oncoming vehicle cuts into your lane, flash your high beams and honk your horn to get the other driver's attention. Don't stare at the oncoming car, since most likely your line of sight will guide your driving. Instead, look at where you want to drive to.
Quickly check your side mirror and steer the wheel towards a free side of the road, while still in your lane. Create as much space as you can between your car and the oncoming one to avoid a head-on collision.
Always keep calm, and drive safely.