Updated on April 27, 2020
If you are selling or gifting a vehicle in the state of Florida, you must first demonstrate that you are the legal owner prior to completing any transaction.
A vehicle title, also known as certificate of title or pink slip, is a legal document that establishes a person as the legal owner of a vehicle.
It is a document of vital importance which is issued by the Department of Motor Vehicles (DMV) in your local state and you must keep it in a secure and safe place.

Save Money on Your Auto Insurance Bill, Compare Quotes Fast
If, by any chance, you lose your title, you must report it to your local tax collector's office as soon as possible to ensure you obtain a duplicate title.
Below we'll walk you through a step-by-step guide on how to get a duplicate title in Florida.
How do I get a duplicate car title in Florida?
The FL Department of Highway Safety and Motor Vehicles (FLHSMV) requires drivers to apply for a duplicate title by filling out the appropriate form along with other requirements that are mandatory for a smooth procedure.
You are allowed to do it either online, in person, or by mail.
Of course you are strongly advised to follow the instructions to avoid potential hassles or delays that could disrupt your application.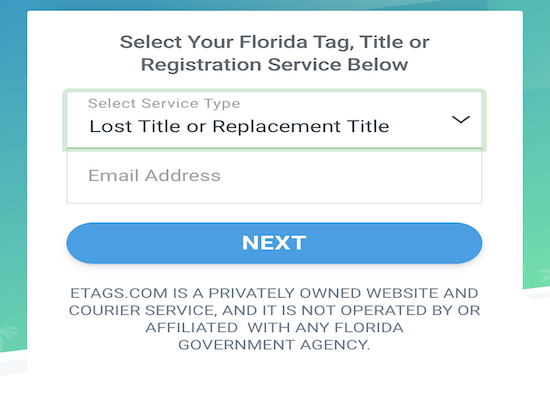 Online duplicate title applications
To apply for a duplicate car title, visit eTags' portal, select "Lost Title or Replacement Title" and follow the simple instructions including:
Place your order
Provide a valid identification
Pay the required duplicate title fees
You could always apply for duplicate title through GoRenew, yet there are some restrictions you need to be aware before using their platform.
You won't be able to get a digital copy of your title which differs from the service package that is provided by eTags.
You cannot use their online service if your current address doesn't match with the one the DMV has on file.
You may have a harder time trying to solve specific issues through their agents over the phone, whereas eTags offers an excellent customer service support to answer any questions or other inquiries on time.
In-person duplicate title applications
Typically, vehicle owners go to their local tax collector's office to handle vehicle-related transaction including duplicate title applications.
As for in-person visits, you must submit the following items:
A completed Application for Duplicate or List in Transit/Reassignment for a Motor Vehicle, Mobile Home or Vessel Title Certificate (Form HSMV 82101).
A valid proof of identity. You can use your driver's license or your ID card for this procedure.
Any information about existing lienholder(s) on your title.
An odometer disclosure
Payment for your duplicate title fees.
Note that your fees are also contingent to the county where you live. Every county in Florida charges an additional fee which is added to the DMV duplicate title fee. So Broward fees can be different than Citrus County and so on.
This fee varies from county to county, so contact your local Tax Collector's agency for more information about duplicate car titles.
Importantly, you are advised to book an appointment with your local tax collector's office in advance to avoid delays and other hassles that deter motorists from making in-person visits.
Applying for a duplicate car title by mail
If you are planning on applying for a duplicate by mail, you will need to gather your completed Form HSMV 82101 and submit it to the mailing address of your local tax collector's office.
Though make sure the DMV has your current address information on file to avoid losing your new title on the mail.
What do I do if have a lien on my title?
If your lost title has a lien on it, you will need to fill out section 5 of the title application form.
Once the lien is satisfied, you can easily remove it by submitting the adequate documentation to prove that you paid off your debt.