When you think of ergonomics, you think of fancy, comfortable office chairs or your workplace in general. For well over a decade now, ergonomics have been associated with increased productivity and employee engagement. Research from the University of Southern California found that worker productivity could be increased as much as 17.5% by providing them with the right chair and training.
But did you know that good ergonomics also applies to driving? That's right, you can make your ride to and from work, as well as longer commutes such as road trips, more comfortable and proactively prevent aches and pains. Lower back pain, eye strain, foot cramps, as well as stiff neck and sore shoulders are typically the complaints of commuters. As cities nationwide become more populated and as we spend more time on the road, driving with ergonomics in mind is becoming a hot topic.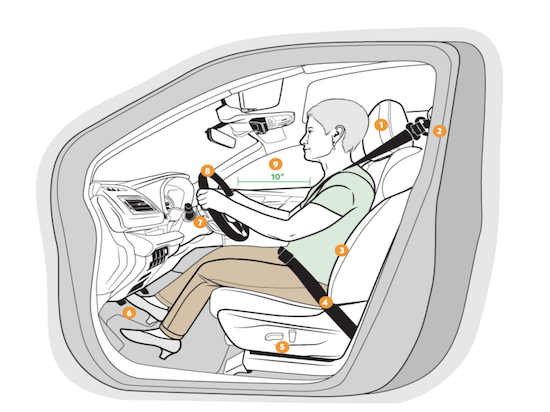 When driving, you're subjected to many stimuli. From battery vibrations to road bumps to u-turns to extreme movements of the car, there's a lot going on as you have to practically stationary. Plus, your feet can support your lower body since they're used to speed up and slow down. As you accumulate more driving hours under your belt throughout the years, minor discomforts such as soreness can become spine injuries, ongoing muscle pain, even weaker joints.
Sitting for long periods of time causes muscles to squeeze blood vessels, leading to less blood supply and even affecting heart activity. Spinal discs also become more compressed, leading to premature degeneration. So how can you make your ride more comfortable? Tips for driving with good ergonomics and a better experience on the road
Save Money on Your Auto Insurance Bill, Compare Quotes Fast
Tips for driving with good ergonomics and better on road experience
One of the simplest way to prevent pain from driving is to adjust your seat so that you can easily reach pedals and controls. The idea is to reach the steering wheel without having to stretch out your arms. Avoid reclining your seat too far back to prevent forward-bending of head and neck.
Don't forget to remove all items from back pockets as you settle into your seat since leaving things like your wallet, phone and keys can create uneven pressure points and lead to back pain.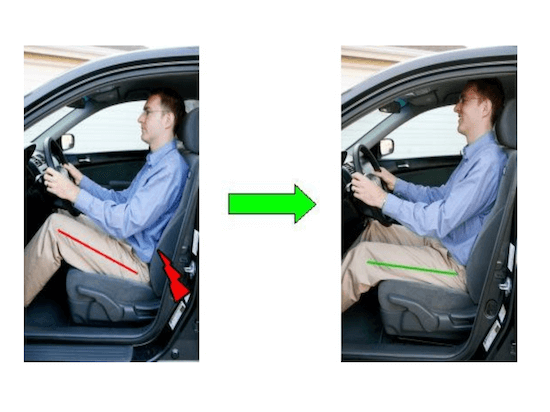 You should have enough space between the back of your knees and the edge of your seat (which should be wider than knees and thighs).
Your backrest should come up to shoulder height, titled at a 30-degrees angle. It should keep spine neutral. Shoulders should be slightly behind hips.
Adjust the cushion tilt angle so that your car seat fully supports your thighs, while you keep hips aligned to them and knees.
Your headrest isn't for support; keep it at about one inch from the back of your head and leveled with that lump in back of your head (not lower than 2.5 inches).