Even though electric vehicles are having a moment right now, EVs only account for 1.8 million of registered vehicles on the road in the U.S. In other words, Americans still rely on gasoline. The topic of gas has been in the news a lot in the past few months, thanks to a rise in car buying, and the Colonial Pipeline Co. hack that led to gasoline shortages across the East Coast.
Use eTags© to Quickly Complete Your DMV Service. Renewals, Title Transfers and More, All Online!
31% of gas stations in Florida were out of fuel during the Colonial Pipeline shutdown
In May, Washington had 80% of gas stations without fuel, while in North Carolina 63% of stations had no gas, and 40% of Georgia didn't have fuel. 34% of gas stations in Maryland also had a shortage. Of course this all led to high gas prices. In South Carolina, gas jumped 19 cents per gallon during the last week of the Pipeline shutdown, while in Georgia it was a 25 cents increase.
SEE ALSO: EVs CAN HAVE SAME PRICE AS GAS-POWERED CARS SOON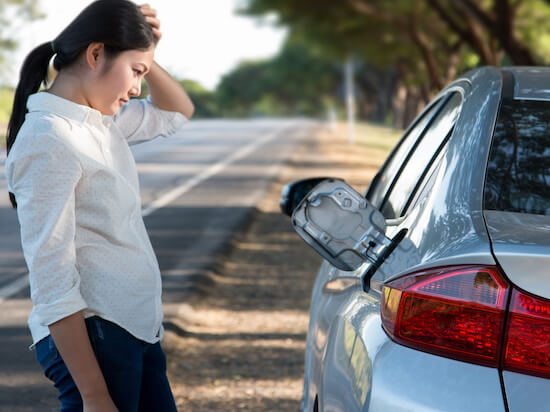 Generally-speaking, 30 to 50 miles from when fuel light is on
As a rule of thumb, you always want to keep your gas tank at about a quarter full. But should you find your gas light on, don't panic, you probably have anywhere from 30 to 50 miles more to go before coming to halt.
A 2015 Ford Explorer has about 35 to 80 miles left on the road after gas light comes on
That range is more of an average; technically how far you can drive with the gas light on depends on the type of vehicle you have and its condition. For example, a smaller car such as the Nissan Altima can go anywhere from 81 miles to 114 miles after the gaslight comes on. But a Ford F-150 pickup truck only has about 35 to 80 miles more to go after the fuel light comes on.
Running on empty can damage your vehicle
Aside from being stranded somewhere with no gas, running on empty can damage your vehicle. The catalytic converter can get busted when driving on empty, which you'll have to repair or completely replaced. It can also damage the fuel pump, leaving your vehicle with a clogged fuel filter. Since debris settles at the bottom of the tank and can get passed through the pump more easily; slowing down the fuel flow.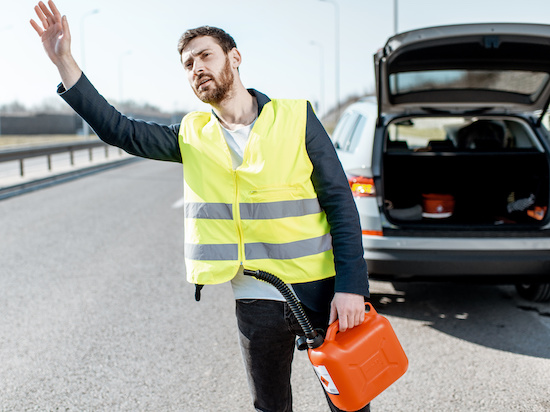 Gasoline in a vehicle acts as a sort of coolant for the electric pump motor. When you're running low on fuel, the fuel pump sucks air creating heat, and can cause the pump to wear prematurely or even fail. To replace the fuel pump, you'll have to drain and remove the gas tank which can cost upward of $1,000.
A Honda Accord has about 46 miles left in it after the fuel light comes on
Watch out for engine misfires, since the fuel pump can begin to take air in. When you're driving with close to no gasoline, the engine loses power, which can feel like a vibration or sort of hesitation when you step on the pedal.
Vehicles known to drive longer after gas light comes on
Based on 2015 vehicle models, a Toyota Camry has about 2.6 gallons of gasoline left in its tank right after the gas light comes on. That gives a Camry driver anywhere from 65 to 91 miles more of driving before the car comes to a halt. For a Ford Fusion, a driver has about 35 to 80 miles left.
A Nissan Rogue has about 3 gallons left after gas light comes on, for up to 99 miles worth of driving. A Hyundai Sonata has 40 miles left to drive after gas light is triggered. A Volkswagen Jetta has 1.85 gallons of gas left for about 57 to 85 miles more on the road.