If you're looking for a way to add a bit of pizzazz to your vehicle, a specialized license plate might be the answer. Currently, the Florida Department of Highway Safety and Motor Vehicles (FLHSMV) has over 120 authorized specialty plate designs for collegiate, environmental, wildlife, military, sports, and special interest groups. So, whether you are looking to support your alma mater or an environmental cause or just want to show your allegiance to your favorite sports team or military branch, there is likely a special plate that will suite your style.
Order Your Specialty Plate Online with eTags
Collegiate Florida Specialty License Plates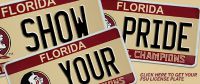 Whether you're a college sports nut, an alumni, or you have children in college, these plates are a great show of your school spirit. There are 37 different university plates to choose from. Some of the universities offered include Barry University, University of South Florida, St. Thomas University, University of Florida, Florida Hospital College of Health Sciences, and Warner Southern College just to name a few.
Environmental & Wildlife Specialty License Plates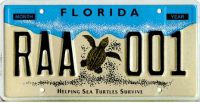 Are you an animal lover? Do you want to let people know that protecting the environment is an important issue? Well, you can with 24 different available environmental and wildlife specialty license plates. From the protection of dolphins to the survival of turtles to the love of fishing, you'll find a design that will appeal to your humanitarian side.
Military Florida License Plates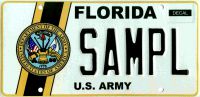 If you served in the military, know someone who did, or just have a genuine appreciation for the service and dedication of our troops, you can opt for a military specialty plate from 5 different branches. You can choose from:
Save Money on Your Auto Insurance Bill, Compare Quotes Fast
S. Air Force
S. Army
S. Coast Guard
S. Marine Corps
S. Navy
Florida National Teams License Plates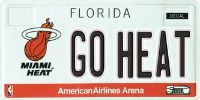 Get ready for the upcoming sports season with a specialized license plate of your favorite professional Florida team. Whether you're a Dolphins fan, a Heat fan, a Buccaneers fan, or a fan of another Florida team, you can show your dedication with a specialized license plate. There are 17 different sports plates to choose, and every sport is covered from NASCAR to football to hockey and more.
Special Interest Florida License Plates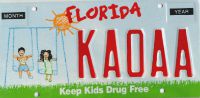 With a special interest Florida license plate, you'll be able to support an important cause. There are 43 special interest specialty plates that you can choose from ranging from supporting brave local warriors to non-profit groups and organizations. A few examples of these include:
Keep Kids Drug Free
Salutes Firefighters
Agricultural Education
Boy Scouts of America
Stop Heart Disease
A Personalized Specialty License Plate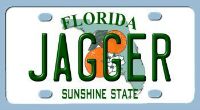 A specialty license plate and a personalized license plate are not the same thing. A personalized license plate is one that contains tailored lettering and numbers. You may have personalized letters and numbers on your specialty or regular Florida license plate. You can have ARMY1 on a U.S. Army specialty license plate or ARMY M0M on a regular license plate. You can check here to see if a personalized license plate number you are interested is available.
Newly Released and Re-Designed Plates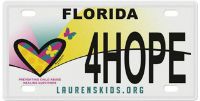 Lauren's Kids is an organization founded by a brave young woman who was a victim of child sexual abuse. Lauren's Kids received their approval for pre-sale plates in 2013 and after reaching the required minimum of 1,000 orders in 18 months, the plate was officially approved by the state and all pre-orders were sent to their owners. The proceeds of the sale of each one of these plates goes to fund awareness and education programs for child sex abuse. These special interest plates can now be ordered right through the tax collector's office or online through etags.com.
Some older special interest plates that recently got a face-lift include:
Protect Florida Oceans (Catch Me…Release Me)
Wildlife Foundation of Florida (Sportsmen's National Land Trust)
Tampa Bay Buccaneers
Florida International University
Pre-Sale Florida Specialty License Plates
In the state of Florida, all organizations requesting a specialty license plate are required to sell 1,000 vouchers, or pre-orders of the proposed plate, within an 18 to 24 month period (or sooner) before the plate is authorized by the state and allowed to be manufactured. The following specialty license plates are now available for pre-sale:
Hispanic Achievers
Fallen Law Enforcement Officers
Florida Sheriffs Association
Johns River Alliance
If you are interested in ordering a specialty plate for your vehicle, skip the drive and the wait at the tax collector's office and do it online. At eTags, we can process your specialty plate order by itself or as part of your registration renewal. Remember, you can renew your registration up to 90 days before it expires but even if you renew after it expires, eTags can still process that and your specialty plate order for you.
eTags Specialty Plate Online Order Tool