FORT LAUDERDALE, Fla.–(BUSINESS WIRE)– Since launching in December 2014, etags.com has processed thousands of Florida vehicle registration renewals. Although the majority of eTags customers who have reviewed the website have provided positive feedback on their experience, some local county officials are still opposing the small private business. Website representatives are commenting as to why they think many Florida drivers continue to favor the use of a private online registration service.
Use eTags© to Quickly Complete Your DMV Service. Renewals, Title Transfers and More, All Online!
"eTags makes registration renewals services faster, easier and more convenient"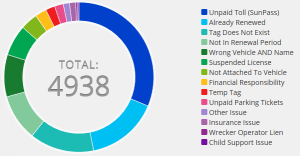 eTags has helped over 4,900 customers resolve issues with processing registration renewals. This includes simple problems like unpaid SunPass tolls to more complicated issues like name mismatch issues between the registration and insurance information on file. Florida residents who have experienced a situation like this are not provided information with the state's online processing website, GoRenew, and are usually required to go to the DMV if they cannot get information over the phone from a state representative.