Updated March 20,2020
If you ever tried to purchase your car or even sell it to a private owner, you've probably heard the term 'Bill of Sale' before. When you're dealing with vehicle transactions, there's usually some paperwork involved. One of the documents is the 'Bill of Sale,' also referred to as a 'Notice of Sale'.

Although not legally needed in Florida since it doesn't actually replace the title transfer, it does provide extra protection both for the vehicle buyer and seller, and makes for an excellent personal record. It especially comes in handy when you've lost a car title or perhaps have never gotten one from the original seller.
Did you know you can draw up a "Bill of Sale" in minutes? There are plenty of websites dedicated to legally-binding forms you can download as templates, so you can fill up the necessary and personal details of the vehicle in question. Some companies offer these templates for free, while other require a fee for use. Eforms, FormSwift, and LegalContracts are just some of the few online.
Save Money on Your Auto Insurance Bill, Compare Quotes Fast
Extra Proof of Sale
A Florida 'Bill of Sale' delivers added proof that a vehicle was, in fact, sold. That the seller abandons ownership of the vehicle and gives it to another person (the buyer). It also frees the seller from all liabilities attached to the vehicle. So if the buyer gets a into an accident and has to pay damages for example, the seller is not responsible anymore. The new buyer can then use the 'Bill of Sale' for transferring title to his or her name and then register the car in Florida.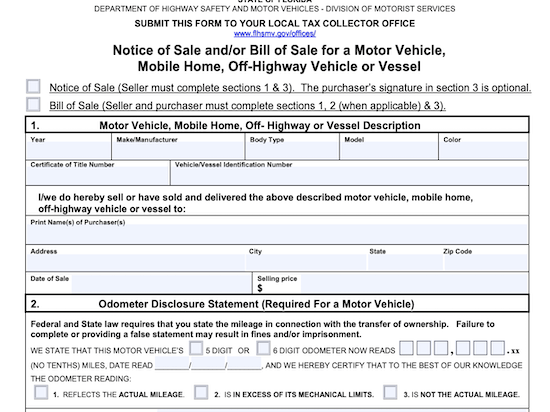 How to Complete a 'Bill of Sale' in Florida
First the seller fills out the Notice of Sale form and signs it. Then, the buyer reviews the form and signs it. There are many fields on the Florida 'Bill of Sale': Make, model and year, certificate of title number that's found on the vehicle title, odometer details, names, dates, price and signatures. In Florida, the Department of Highway Safety and Motor Vehicles offers a 'Notice of Sale' in a document called Form 82050. You can use it to finalize your vehicle transaction.
Notarizing The 'Bill of Sale' And Submitting to DHSMV
Once completed and signed, make sure you notarize the 'Notice of Sale.' Then it's the seller's responsibility to go to the Tax Collector's office and submit the 'Bill of Sale. At that point, the DHSMV will cancel the Florida registration of the vehicle, stopping it from being driven on the road, unless the title has already been transferred and registered by the buyer. The buyer has 30 days to transfer title, register vehicle, provide proof of insurance. If this is not done in time, there will be penalties. Don't forget you can transfer title in Florida and register vehicle all online with eTags.