Technology is pretty damn awesome. We are connected today like never before. We can jump on a video a call, see and hear a loved one as if they were right in front of us no matter where in the world they are. Hopefully, no one is engaging in video calls while driving but, unfortunately, we wouldn't be surprised if many have. What is surprising though is how little most drivers know about what constitutes as distracted driving (cell phone use even if it is hands-free, adjusting audio, climate controls, etc). State laws on cell phone use do little to curb the issue that the very technology we love is causing.
Use eTags© to Quickly Complete Your DMV Service. Renewals, Title Transfers and More, All Online!
Here in the United States, over 3 thousand people died and close to half of a million others were injured in 2013 because of distracted drivers. These were not accidents. They were preventable crashes caused be drivers of all ages.
Age of Driver
Total Number Killed due to Distracted Driving crashes in 2013
Percent of Total Distracted 

Drivers

15 to 19
294
10%
20 to 29
803
27%
30 to 39
517
17%
40 to 49
423
14%
50 to 59
384
13%
60 to 69
258
9%
70+
252
9%
Information provided by The U.S. Department of Transportation.
So, how do we go about preventing distracted driving and the crashes that result from them?  Technology, of course!
Safety Ratings on Car Technologies from FTS
The Foundation for Traffic Safety (FTS), a Triple-A organization that ranks and reports on different motor vehicle technology, has grouped many of the latest technological advancements providing ratings based on their overall safety and particular effectiveness in reducing a certain type of incident. The ratings for any of the car technologies listed below are based on their closed star ratings which are representative of real world data and not that collected in laboratories, driving simulators, or test tracks.
Adaptive Cruise Control & Forward Collision Warning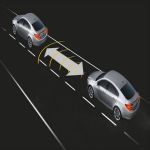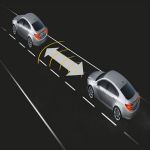 Auto manufacturers have been working, developing, and implementing adaptive cruise control (ACC) technology for many years. This technology, typically available in luxury cars, uses a radar to detect the distance of the vehicle ahead of it. The car's speed is adjusted to maintain a safe distance slowing as necessary and returning to the driver's set cruise control speed when it is safe to do so. Some of the more advanced versions of this technology will completely stop a car if needed.
Similarly, a Front Collision Warning (FCW) system is one that alerts drivers when their vehicle is about to collide with another vehicle in front of them.  This system uses both cameras and radar to deduce whether a collision is imminent and warns the driver but it does not take corrective action. Combined with ACC systems which can take corrective action when in use, both technologies could help reduce the amount of rear-end crashes that result from inattentive drivers fiddling with their phone or some other inane activity.
Adaptive Cruise Control: 1-star rating for overall safety and a 2-star rating for rear-end collision prevention
Front Collision Warning: 1-star rating for overall safety and a 2-star rating for rear-end collision prevention
Electronic Stability Control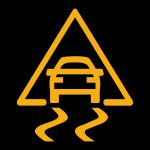 Electronic Stability Control has been mandatory in any new vehicles since 2012. This technology automatically activates the breaks of individual wheels to prevent the direction of a vehicle from spinning out (when the back wheels loose traction) or plowing out (when the front wheels loose traction). The NHTSA and the IIHS recommend that consumers purchase vehicles with this technology whenever possible.
While ESC was not specifically meant to reduce crashes caused by distracted drivers, it certainly can help apply the proper breaking if a distracted driver begins to spin or plow out at a curve they weren't even aware was incoming.
Front Collision Warning: 5-star rating for overall safety and a 5-star rating for loss of steering control
Lane Departure Warning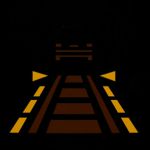 This technology warns the driver when they are merging into another lane without using a signal or are unintentionally drifting into another lane. Not to be confused with Lane Departure Prevention systems, LDW systems do not take corrective action. They provide warnings via an internal cabin alarm or by causing the driver's steering wheel or seat to vibrate. Again, this technology was not exclusively developed to cater to the ever growing number of distracted drivers, but it does have direct application to the typical driving manner of someone scattering their focus between driving and other distracting activities.
Lane Departure Warning: 1-star rating for overall safety and a 1-star rating for lane changing
Beyond the Car – Integrating Other Technologies
Hands-Free – Is it Really Safer?
Hand-free devices were made with the purpose of providing mobile device users with added convenience. These devices can include headsets, speaker phones, and interior vehicle touch screens that sync your phone, mp3, or other devices to things like your vehicle. They have also served the purpose to keep a driver's hands on the steering wheel and their eyes on the road. While convenient and once thought to largely solve the problem of distracted driving caused by cell phone use, the National Safety Council reports that hands-free cell phone use is no safer than hands-held because it doesn't eliminate the cognitive distraction that having a conversation essentially is to a person driving. Nonetheless, we list this technology because, in comparison to trying to manually search through your phone for a contact to call and dividing your visual focus between the screen and the road, using voice commands via blue-tooth connection can be slightly safer.
Apps to the Rescue
Yes, there is an app for that. Apps preventing distracted driving caused by cell phone-use have been created by both cell-phone carriers like AT&T, Sprint, and T-Mobile and independent companies. There are many different apps to choose from. Some of these apps include:
| | | |
| --- | --- | --- |
| APP NAME | COMPANY | DEVICE COMPATIBILITY |
| DriveMode® | AT&T | iOS and Android |
| Drive First | Sprint | Android |
| Safely Go | Location Labs | Android |
| Canary | 52INC | iOS and Android |
| Zoomsafer | Aegis Mobility Inc. | iOS and Android |
| iZup | Plain Vanilla Games Corp | iOS and Android |
| LifeSaver |  unit9.apps | iOS and Android |
| Drive ID (Requires the purchase of an in-vehicle device) | Cellcontrol | iOS and Android |
It is important to note that apps like this can drain your phone's battery faster than usual.  Additionally, not all are free. Most importantly, since the use of the apps are usually based on the choice of the driver, it's important to develop will-power. Yes, will-power. The ability to disable the app at your leisure is something that you have to fight the urge to do. In the words of AT&T, It Can Wait.
More Technology to Solve a Technology Problem
Auto manufacturers have been working on built-in vehicle technology that can reduce or eliminate several types of dangerous driving habits like distracted and drunk driving. Vehicle sensors are being designed to monitor a person's driving and include devices like built-in dash cameras. These cameras would monitor facial expressions for tiredness, sleepiness, intoxication, and other distracting driving habits. The systems would also collect data on driving habits. Currently, auto manufacturers like Nissan and GM as well as a wide selection of other car companies already have plans on installing sensors in their next generation of vehicles.
You and Me – The Real Solution
Distractions come in many forms from a cell phone to a talkative passenger. Driving is not only a privilege but also a great responsibility. Preventing distracted driving means having the will power to refrain from multi-tasking while, so consider:
Placing your phone in the glove compartment or even your trunk and take it out only once you have made it to your destination.
Reminding your passengers to be considerate of you while you drive by not speaking too loudly or asking you to perform tasks while the car is in motion.
Adjusting everything from the mirrors to the radio before you begin driving or only while you are stopped.
Avoiding eating or drinking while in the car which includes putting down your very cool coffee mug while the car is in motion.
Finishing your grooming routine at home. You not only put yourself in danger by putting on mascara while you drive, you also look silly to fellow motorists.