Fall is here is with all its beautiful bounty, from fiery-colored leaves to seasonal vegetables, pumpkin spice lattes, and of course the milder weather. Gone are the hot and humid days of the summer, encouraging most people to spend more time doing outdoor chores before the winter cold hits.
Use eTags© to Quickly Complete Your DMV Service. Renewals, Title Transfers and More, All Online!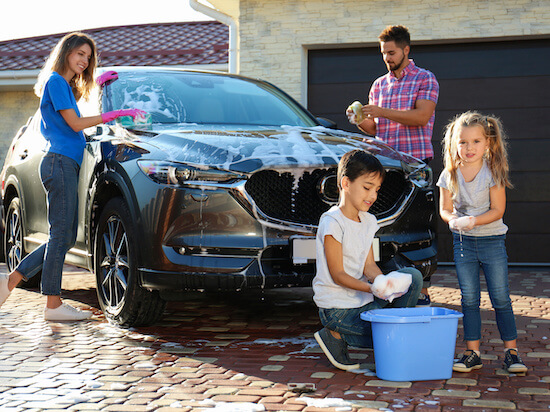 In fact, fall (or as you may like to call it autumn) is that time of the year where drivers prepare their vehicles for the upcoming, tougher weather—the ever-popular fall car maintenance checklist. It's right up there with home maintenance to-do's like cleaning the gutters and inspecting roofs. This September, upgrade your car maintenance efforts and detail your vehicle like a professional detailer. Continue reading for detailers' expert tips on how to deep clean your ride for a spotless like-new vehicle.
By 2023, automated car washes will likely grow at a rate of 3% every year (MarketWatch research)
Rinse before you wash
Practically every detailing shop will tell you, rinse your vehicle before you start the deep cleaning. Why? Because if your car is dry and you start washing with soap and water, you can grind the surface dust, grit, road grime, pollen and other debris right into the car's paint finish.
Thoroughly rinsing with water, removes that surface dirt and gunk for a smoother "canvas." For extra points, use a microfiber towel along with the rinse for less risk of scratching.
Go for the mitt, not the sponge
Picture a sponge. Are you seeing the large pores that resemble swiss cheese? That's why you don't want to detail your vehicle with a sponge. Dirt, grime, gunk, and everything else on your car's surface can get trapped in the sponge's holes. When grit gets lodged in, the sponge turns abrasive and sandpaper-like which can result in scrapes and blemishes. Not the look you want to go for!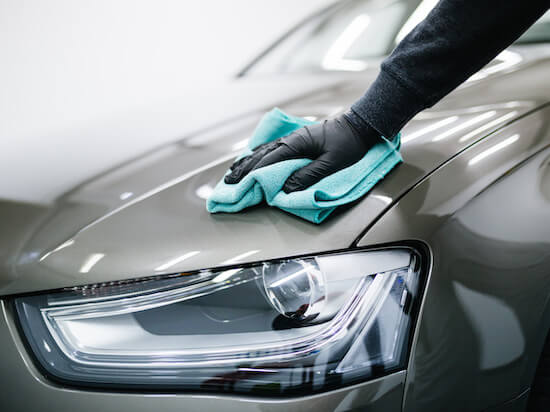 Choose a microfiber mitt instead, and watch it smoothly glide as you clean. By cleaning your car with a softer material, the grit will fall right out when you rinse. And no swirly marks left on your car doors, hood and other. Most can hold a lot of water, all while not leaving lint behind.
Don't detail your vehicle in direct sunlight; cleaning products work poorly on hot surfaces, plus the heat speeds up the soap-and-water drying process leaving water spots and streaks
Skip the dishwashing detergent
Most drivers will pour a few drops of whatever dishwasher they have on hand into a bucket, add water and voila they think they have a car washing concoction. But ask any professional car detailing company about what to use for a good solid scrub, they'll say opt for car wash shampoo without salts. Why? It's not as harsh and abrasive as dishwashing detergent which can suck out oils that are significant for the vehicle's overall finish.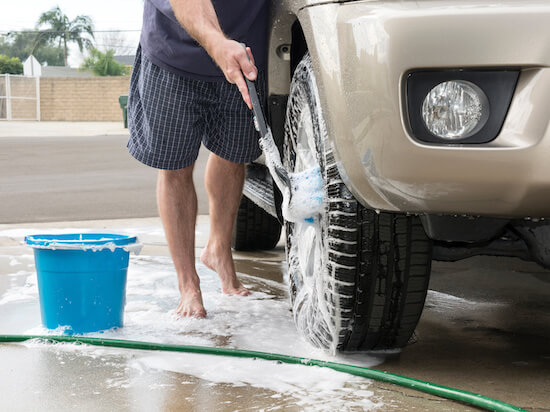 Dishwashing liquid and detergents are very concentrated with a high pH level which can slowly eat away at your vehicle's coated surfaces, thus impair the look. These detergents are basically work as de-greasers, breaking down sealants and such. If you're washing your car, use a shampoo made for it. Popular and DIY-friendly car wash shampoos include Meguiar's Gold Class and ArmorAll SpeedDry.
SEE ALSO: WHY REGULAR CAR MAINTENANCE MAKES A REMARKABLE DIFFERENCE
Two buckets are better than one
When washing your set of wheels, using two buckets of water ensures you don't cross-contaminate. Essentially, you don't want dirt of a brush or towel to end up in the soapy and sudsy water you actually wash with. So two buckets allow you to keep one bucket for your car wash shampoo, and another for purely rinsing your mitt, brushes, and more. From time to time, dump the rinsing water with a clean refill as you clean the car from top to bottom.
A conveyor-based car wash uses 30 gallons of water per vehicle on average, while in-bay automatics use 44.8 gallons/car (International Carwash Association) 
Don't just scrub, protect too
Professional detailers suggest applying protectant coatings for preserving the car's paint, especially after all that cleaning and hard work. There are plenty of products out there, each with their own pros and cons. You can go for a transparent paint protection film, ceramic coating, liquid wax, and even invest in a polisher/buffer (to use before you apply a coating).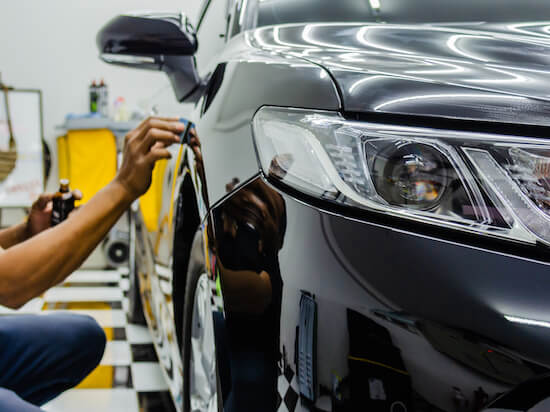 Reduce the risk of chips, scratches, swirl marks, chemical stains and etch marks, UV oxidation and water spots with the help of a made-for-detailing product you can apply yourself.