Winter storms can bring freezing cold temperatures and dicey road conditions. The wintry elements could be anything from freezing rain and icy highways to hours of snowfall or even a full-on whiteout. Just last weekend in New Jersey, the mix of temperatures made for freezing cold rain resulting in a glaze of ice over the state's highways. The black ice culminated in countless fatal car crashes during rush hour traffic. In Monmouth County alone, there was a 50-car pile up as well as over 170 crashes on Route 18.
Use eTags© to Quickly Complete Your DMV Service. Renewals, Title Transfers and More, All Online!
Recent Virginia snowstorm: 400,000 people without power
If you're traveling the roads during a storm, there's a chance you could get stuck in your car for a few hours or more! Recently, during the snowstorm between Richmond and Washington DC, hundreds of cars were stuck for more than 24 hours! More than a foot of snow caused a pileup on I95 and people were stranded in freezing cold temperatures overnight! An Amtrak train even halted for over 30 hours! CNN reported drivers were stuck turning on and off their engines to conserve fuel, and sharing food and supplies with one another right on the highway.
In a survey of 1,500 people, 39.5% of them believed that an ice-scraper is the most important tool to have in your winter driving safety kit
Calm before the storm
A winter snowstorm is a force of nature. In fact, every year over 1,000 people are killed in vehicle crashes on slushy, icy or snowy roads (policyadvice.net). While you can't control the weather, you can surely prepare for it. Continue reading to learn more about how to prepare before, during, and after a winter storm.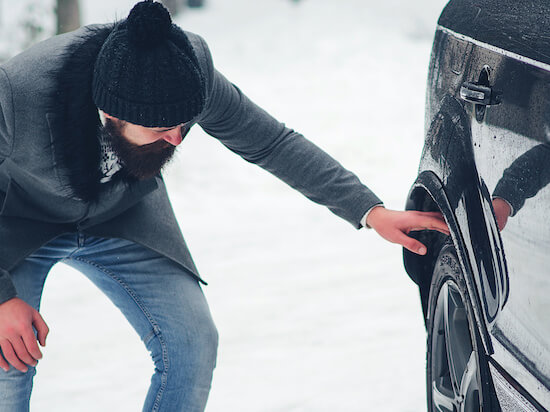 Prepare your car: Make sure your tires aren't worn and the pressure is good. Low tread tires can make for a gnarly spin out on icy roads! Check for cracks or tire bumps as well. Carry a spare and if you're unsure, check out a few youtube videos on how to change a tire. If you happen to get a flat tire, in the middle of a highway during a storm, it could take emergency services quite some time to get to you. Of course, don't exit your vehicle if it isn't safe. It's better to wait and be safe, than risk getting hurt!
Make sure you don't have to change your car battery anytime soon. You certainly don't want your vehicle to die out on you in the middle of your drive. Being stranded without a battery means you can't run the car for heat! Regular, proper maintenance for your vehicle beforehand will save you here.
It takes up to 10 times longer to stop on snow and ice than it does on dry pavement
Keep a full tank of gas: This speaks for itself. Anything could happen and if you have a normally long commute for work, you should be prepared for heavy traffic at the very least. If worse comes to worst and you end up stuck in the car, a full tank will come in handy because you're going to want to keep the car as warm as possible. There are some tips on how to keep warm safely while reserving your gas. We'll delve into those soon.
Always have an emergency kit: Expand on the first aid kit that you likely already have in your trunk (and bring it into the cabin of your vehicle for easy access) You probably have bandaids, bacitracin, and gauze. Think about packing a bag with a blanket, a charger, energy bars, or other non-perishable food items, water, and any medications you take. Some good things to have that you might not think of is an ice scraper, a shovel, and jumper cables. If you have to find your way out of a sticky (snowy) situation, these will really help!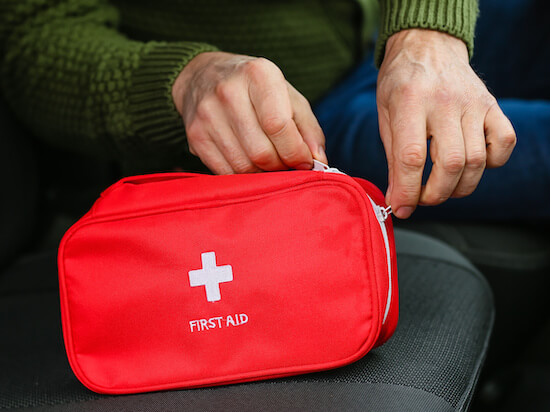 Finally, make alternate plans: This is easier said than done. If you've got to make it home to your children or to and from work, a trek through the winter wonderland might be unavoidable. But if it's possible, stay home, leave early or spend the night. Try your hardest to avoid getting stuck out in a bad storm.
70% America's population lives in areas with snowy or icy conditions during the winter.
What to do if you're in the thick of it: during the snowstorm
Hopefully, you aren't reading this blog while you're stuck in your car. The main reason is, preparation is key! All of these tips are better when planned ahead of time. The other reason is, you should be conserving your cell phone battery for emergency calls only! That's one precaution you should take. Here are a few more:
Set yourself up. If you think you're going to be in your car for a while, gather up any blankets, extra jackets, or clothing you may have and make a small space for yourself. You need to keep warm and it's certainly easier to heat a smaller space. Keep your food items and cell phone in arms reach.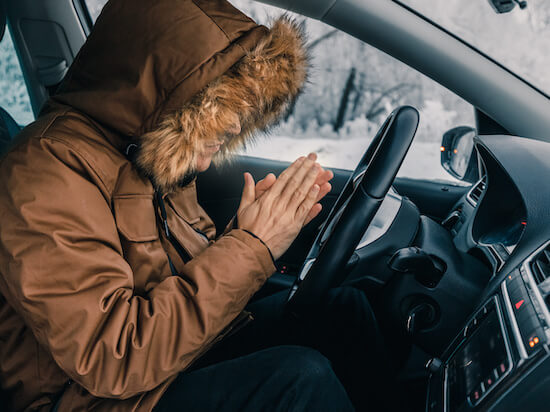 Stay covered. If you have a hat, gloves, scarf, or even thick socks, put all of it on. Did your mom ever tell you, your head is where most of your body heat is lost? Get bundled up and stay bundled up.
Cat litter can be used to melt snow and create more traction, helping you get unstuck from sheets of snow
This is a hard one, but try not to sleep if you're by yourself. If you have others with you, take turns so someone is always awake. If you're alone and you feel like you can't really stay up any longer, try hanging a bright-colored item like a shirt, out of your window or even tied to an antenna. This will show you're in distress and may even help someone see you if visibility conditions are bad.
You'll need to use the heat to stay warm, but there are a few caveats. A major one is, you don't want to run out of gas. What you want to do is run the vehicle for no more than 10 minutes every hour to heat the cabin. Before you do this, check your exhaust. If it's clogged with snow, you could die from the carbon monoxide. Even if you've checked and the exhaust is clear, crack your window a smidge. Better to be safe than sorry.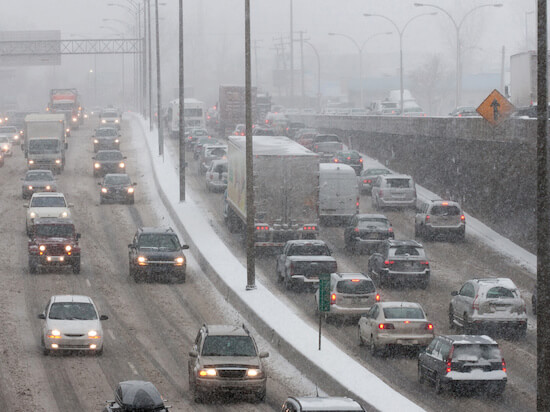 Ultimately, it's best to stay in your car. You might be tempted to get out and see if you can get an idea of what's going on if help is coming but you could get hit by another car or worse freeze. Make a few calls or texts to alert authorities and loved ones that you're stuck, and need help. As long as people know you're in distress, eventually, someone will come.
Icy pavement causes 13% of all weather-related car crashes
When it's all said and done: the aftermath
Hopefully, you've safely made it through the storm. Now, there are some decisions to make. You need to figure out a few key factors. What are the conditions of the roads? Are you in a remote area? Is your car in a dangerous spot where emergency vehicles might come roaring by and not see you? Some roads may be closed and so getting out now might not be too easy.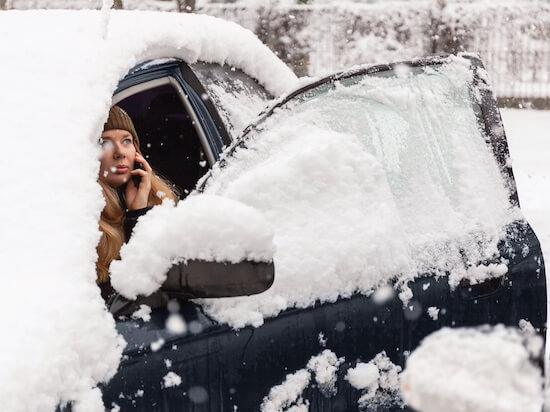 If you're out of gas or your cell phone has died, this begs more questions. Some important personal details to work out would be, your physical and mental condition. Are you able to walk? How long have you been trapped? It may be safer to get out and walk to safety. If you still have supplies, bring as much as you can with you. Even better if there are other people you can stick together with.
Try as hard as it may be, not to worry about your car. You've got insurance for that after all! Think about all of these questions and then make a decision on whether it's best to venture out to get to safety or stay in your car and wait for help. Either way, may you be warm and safe should you find yourself trapped on the roads during a winter storm.