Did you know that vehicle theft is a serious issue in California?
Use eTags© to Quickly Complete Your DMV Service. Renewals, Title Transfers and More, All Online!
Imagine going to the parking garage where you left your new car, and realize that your car is nowhere to be found.
You try to look for answers but you finally admit that your new car was stolen. It's a terrible thought, isn't it?
As car thieves are becoming increasingly organized and sophisticated, it's always worth learning more about car theft in your area.
If you live or planning to move to California, here you'll find an infographic that compiles the top California cities for vehicle theft.
Cities with the highest car theft rates in California
Bakersfield, for example, ranks number 1 in California and 3rd in the nation for the number of stolen vehicles as reported by the National Insurance Crime Bureau 2016 Hot Wheels Report.
Car theft is not a problem that only affects certain type of cities, as it happens everywhere. With more action plans and awareness, some cities have reduced car theft criminalities, but few others have got even worse.
Looking at Bakersfield, once again, we see that things are getting even more critical. In 2012, this city ranked 3rd in California and now it's at the top of the rank. Fresno, on the other hand, is doing better than other cities, going down from 2nd position in 2012 to 6th in 2016.
If you are a California resident, have a look at this eTags Vehicle Theft Infographic, and check where in the table your city ranks.
Avoid being a victim
Learn from this graphic and think about what makes people become an easy target for car thieves. It's all about getting our facts straight so that we can develop awareness and precautionary actions.
Have you ever been a victim of car theft? What type of precautionary actions do you follow to avoid being a victim?
SEE ALSO: Buying A Car In California? Follow These Title Transfer Steps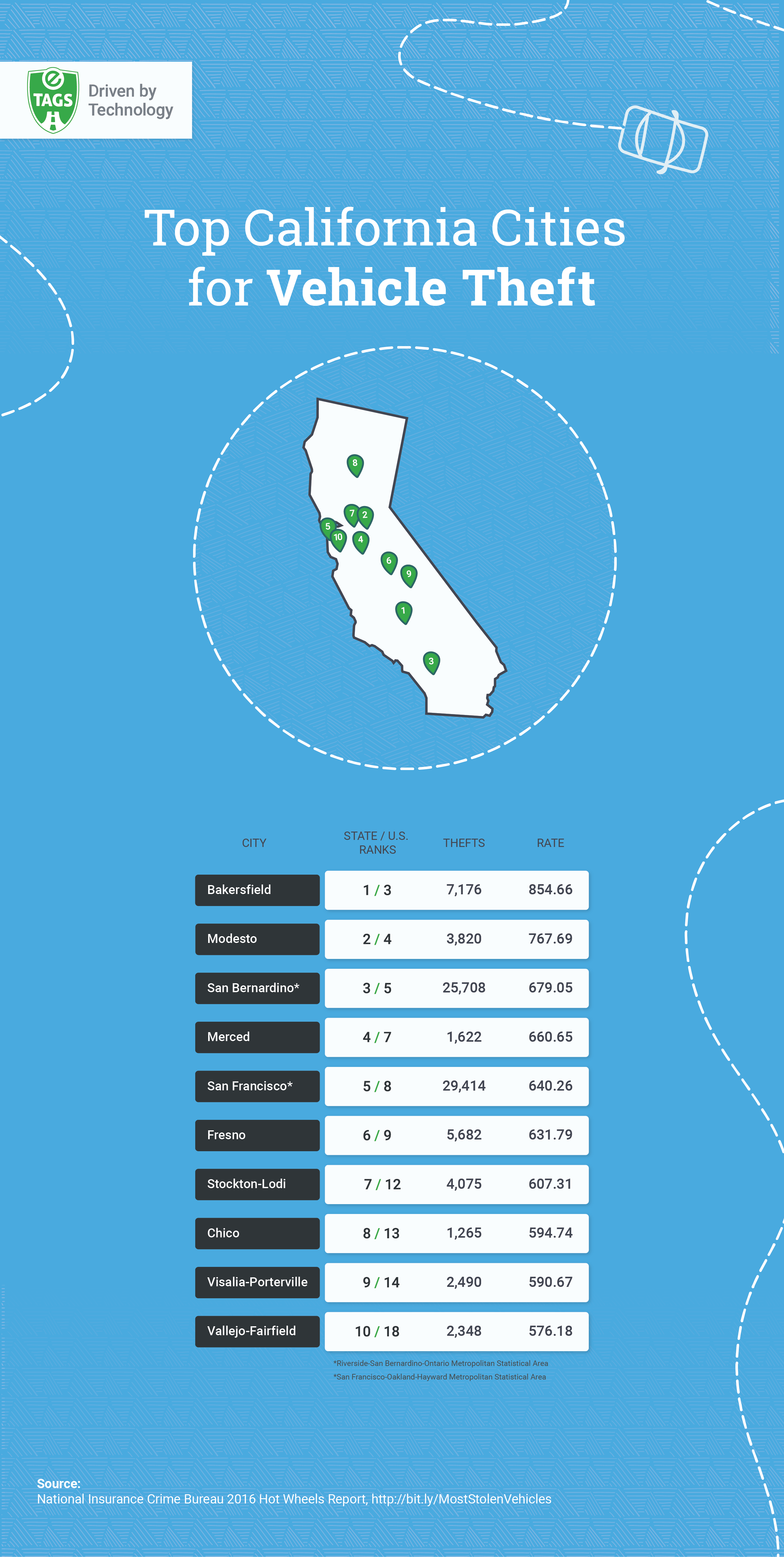 Share This Infographic – Copy & Paste Embed Code Below: