It's Barbie fever — worldwide! The new upcoming Barbie movie set to hit movie theaters on July 21 has got everyone and every brand in a frenzy. The real-life Barbie's dream house in Malibu is back on Airbnb. Burger King is offering a pink burger. Hot Wheels released a Barbie corvette. Even Crocs has joined the Barbie mania with a special collection. It's definitely a Barbie World right now, and in that pink-drenched 2023 movie the electric 1956 Chevrolet Corvette is turning heads.
Use eTags© to Quickly Complete Your DMV Service. Renewals, Title Transfers and More, All Online!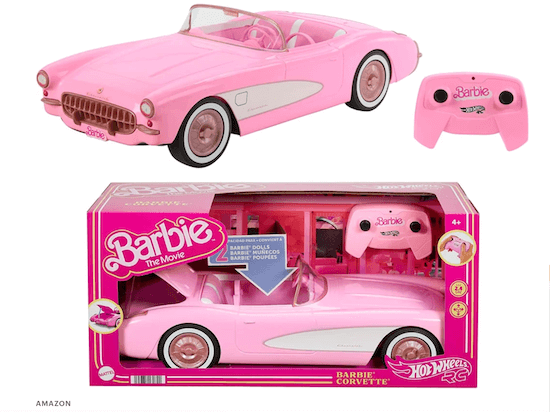 Pickups, motorcycles, and a Malibu convertible
Barbie, in the Mattel toy version, first drove an Austin-Healey 3000 MKII in 1962. By 1976, Chevrolet made the Malibu Barbie Convertible Corvette. But the leggy doll has a lot more than just cars as modes of transportation. Mattel's Barbie has motorcycles, campers, rescue vehicles, pickups, airplanes, kayaks, even horses. The American icon has way too many sets of wheels to really know how much her ENTIRE collection is worth, but here are some of the most popular selections and their price tags. Assuming Barbara Millicent Roberts of course, yes that's her full name, keeps her cars in excellent condition.
The Barbie doll debuted on March 9, 1959 at the New York Toy Fair
Barbie's first car
The Austin-Healey 3000 is a British sports car built from '59 to '67. Barbie's Healey came in multiple colors including brown exterior with blue interior and of course, her signature pink. The two-door roadster had 132 hp. The classic car and collector auto insurance provider Hagerty's Price Guide reports the British, 6-cylinder import is worth $74,600 on average. The highest sale recorded for the Austin-Healey 3000 was $455,879 tough!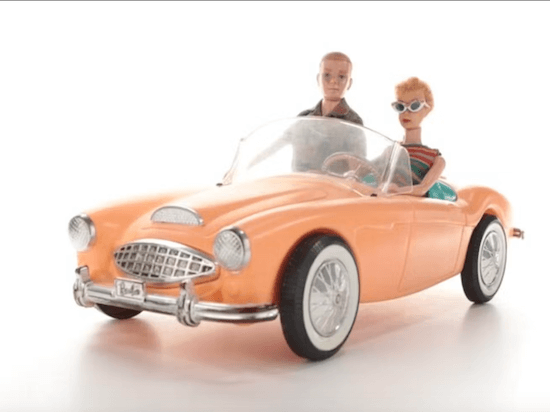 Mercedes and that '57 Chevy
During those first years, Barbie also owned a 1962 Mercedes-Benz 190 SL worth $139,000, according to Hagerty. The two-door luxury roadster was built between '55 and '63. It first appeared in the New York Auto Show in 1954 and initially priced at $3,998. The all-American doll needed an all-American car, so Barbie got a 1957 Chevrolet Bel Air worth an average of $84,600 today. Fans can get a blue or pink Chevy, both with fins for days!
In the new Barbie movie, Margot Robbie plays the well-heeled doll, while Ryan Gosling plays Ken
1976 Chevrolet Corvette
Mattel's popular blond doll drove a third-generation Corvette in the mid-'70s. The Star 'Vette as it was known featured fat fenders, bucket seats, and star decals on the hood and door panels. This Corvette even had a snap-on suitcase. The real C3 sold over 46,000 units with a base price of $7,604.85 at the time. The most recent sale price Hagerty has listed on their website for this stingray model is $34,388, although the most someone has ever paid is $3,140,000!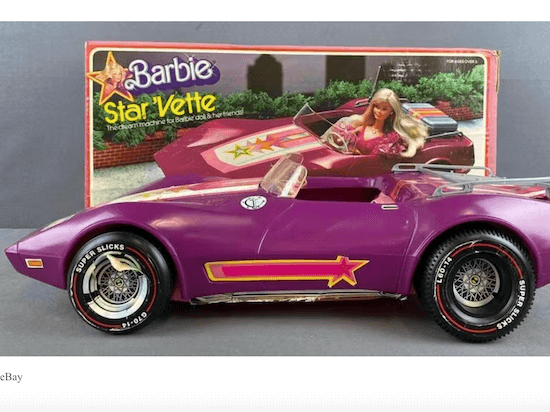 German and Italian Barbie
By 1981, Barbie got herself a Volkswagen Rabbit Cabriolet aka VW "Jazzie." The practical car in real life is worth about $8,000. Going for luxury next, Barbie went for a 1986 Ferrari 328 GTB worth $191,000 complete with five-spoke wheels and a tan interior. The V8, Italian-made sports car's GTB stands for Gran Turismo Berlinetta. In 1985, it retailed between $58,400 and $62,500 not adjusted for inflation. Production totaled only 1,344 vehicles.
Barbies goes off-road
The 90s brought more adventure to Barbie's fantastic life when she got a Wrangler TJ, valued at $23,200 on average.
Since its launch in 1959, over 1 billion Barbie dolls have been sold worldwide.
Will you be seeing the movie?