DMV DELEGATED PROVIDER
Streamlined Business Solutions For Your Tag and Title Transactions
Let
ags manage your vehicle registration and title needs. Thanks to our easy-to-use online portal, you can free up your back office, save time, and expedite processing.
Need help? Click here to schedule a demo with one of our Business Solutions Specialist
Title Replacements
Issues with lost, stolen or misplaced titles? Get it done with eTags! Plus, we can process lien payoffs for most lenders.
Registration & Title
You can count on us to process your title and registration transactions fast. Send us the paperwork, we'll do the rest!
Registration Renewals
Whether you're renewing a single vehicle or large fleet, eTags can do it all online—all securely.
See how easy it is to process your tags and titles online.
Learn how to set up your profile, edit multiple shipping addresses, review transaction fees, and place your order. Watch how our technology works to better serve car dealerships and businesses with fleets.
Select a video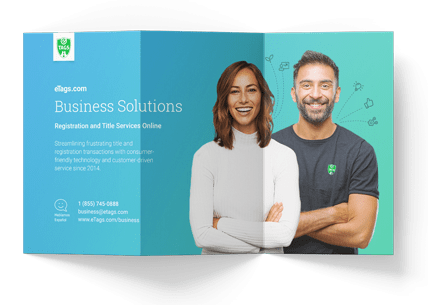 Not ready to create an account or schedule a demo?
Enter your email for a detailed PDF about our services including your home state tags & title fees.
Your home state is the state where you need registration and title transactions processed
Who We Are
Tags.com is delegated and licensed in multiple states to process DMV transactions from title replacements and title transfers to first-time registrations plus tag renewals, and more. Let Tags do the heavy lifting for your business to keep your vehicles' title and registration documents up to date. Whether you have 1 or hundreds of vehicles, we've got your back.
Ready to start?
Need help?
Over 2 Million Drivers Have Used
eTags
Trusted Delegated Service Provider
Fast, Easy Title & Registration Services