How to Pass the DMV Road Test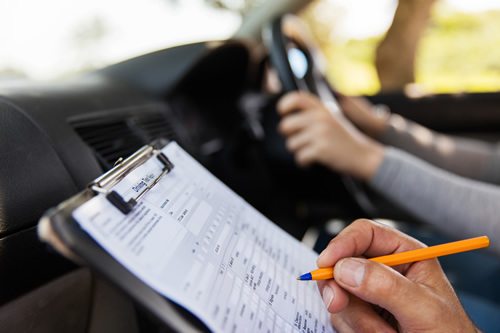 DMV Driving Test Tips
In every state, when you apply for a driver's license of any kind – a learner's permit, a license for an adult, or a CDL for a commercial driver – you will need to take and pass a DMV road test.
The driver's road test is intended to assess your driving skills and whether or not you are able to safely and competently operate a motor vehicle.
Some states require you to have completed an approved driver's education course before you take the road test, but even if your state doesn't it's a good idea for a new driver to attend one.
Save Money on Your Auto Insurance Bill, Compare Quotes Fast
Passing the behind-the-wheel road test is relatively inexpensive in most states. The courses usually only take a few weeks to complete and it's an excellent way to learn the essential skills and gain the experience necessary to pass your driver license road test.
Preparing For The DMV Behind-the-Wheel Road Test
Requirements for taking the driver's road test vary somewhat from state to state so it's very important that you check with your state's Department of Motor Vehicles to find out the specific details in your area.
Nonetheless, there are some things you can expect no matter which state you live in. Here are some basic preparatory steps.
Schedule Your DMV Road Test Appointment
Most states, if not all, will require to schedule a road test date and time to make sure an examiner is available. Try to arrive at least 15 minutes early for your road test appointment and be prepared or you will likely need to reschedule.
Make sure your vehicle meets all the DMV requirements (see below for more information).
If you're a new driver, make sure you have your learner's permit with you when you arrive to take your road test. Some states will require you to be accompanied by a licensed driver who is 21 years of age or older.
Be sure to wear your seat belt at all times during the road test. Some examiners might fail you if you don't.
DMV Road Test Vehicle Requirements
The vehicle you use to take your driver's road test will need to be safe and roadworthy and meet most or all of the following requirements:
Current registration document and license plate/window sticker.
Proof of auto liability insurance, either a card or the actual policy.
Current inspection sticker if your state requires them.
Both front and rear license plates if your DMV requires them.
Functioning brake lights, turn signals, windows and doors, horn, inside and outside mirrors
Some states require an emergency brake located between the front seats.
Windshield and rear window free of cracks and anything that might obscure vision.
Good tires inflated to the proper air pressure.
If you fail the DMV road test for any reason, you will usually have to wait a certain period of time before you can retake it.
As always, these are just general guidelines to taking the road test. Check with your local DMV for specific information on scheduling a DMV test appointment in your state.