Illinois is right at the center of our country's interstate roadmap. There are a total of nearly 16,000 miles of IL highways and 7,847 bridges. That's a whole lot of highway! That means, a whole lot of drivers! Over 8.5 million as of 2019 to be exact! And if you're a new driver on Illinoisian roads, titling and registering your vehicle can be a bit different than what you're used to. 
Use eTags© to Quickly Complete Your DMV Service. Renewals, Title Transfers and More, All Online!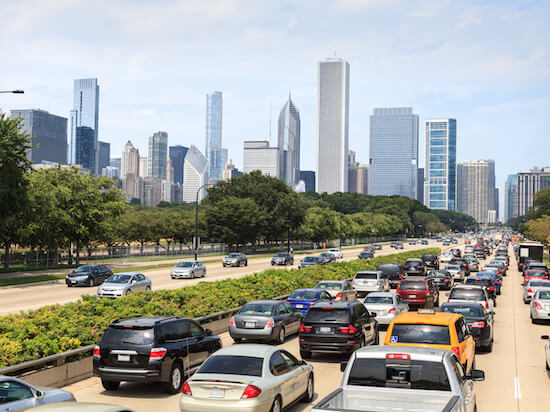 In most states, the Department of Transportation is the parent agency to its state's motor vehicle division or "DMV." In the Prairie State, the "SOS" or Secretary of State's Office processes transactions like vehicle title transfer, car registration, and even driver's licenses which can be a complex and expensive process. There are also private companies like eTags that offer title and registration services online, so there's no need to go anywhere or wait in any lines. Luckily, you've got eTags! Let's break down title transfer and registration in the great state of Illinois!
What does Illinois state ask for to transfer your title?
Let's start with the basics. You need to know what forms and documents to gather to have your affairs in order. The cardinal rule and arguably the most frequently broken one, don't buy or sell a car, motorcycle, truck, trailer, or any vehicle without a title. You'll end up in a pickle almost every time if you do!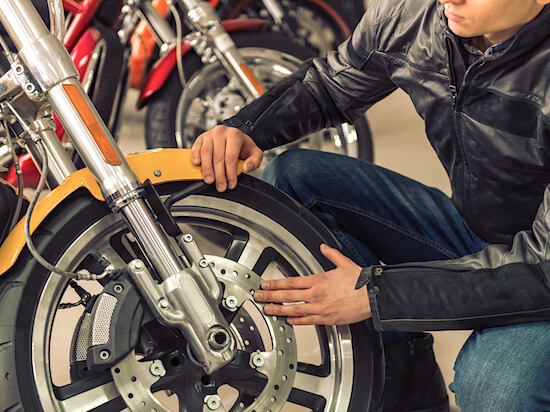 In IL, the Secretary of State's Office processes titles, license plates, and drivers licenses, not the DMV like most other states
In fact, it's actually against state law in IL to buy or transfer a vehicle without the title. And not only that. Make sure to check that the title has all of the vital information like the odometer reading, the date of purchase, the seller's signature, and your correct name. As always, you need valid Illinois state auto insurance as well. It's a pretty common misconception in car titling and registration, that you register the vehicle first, then get insurance. It's the other way around, friends! You always need current car insurance in order to register your vehicle.
What forms do you need for IL title and license plates?
Along with the coveted title, you need the Application for Vehicle Transaction or Form VSD 190. This multi-purpose form is required not only for title transfer but registration as well. The document is available through the state's Electronic Registration and Title System or commonly known as the "ERT system." You need certain information like your driver's license number to access the site. The Electronic Registration and Title System allows you to complete and print the Application for Vehicle Transaction.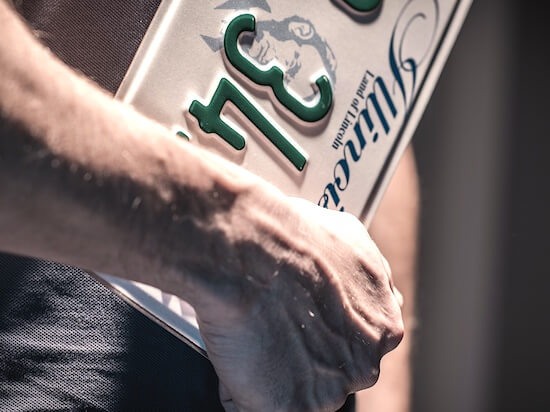 Car owners and registrants can either take the completed application and supporting documents in-person to a local secretary of state's facility, or send it in via mail. Payment for the correct amounts must be submitted with the application. If you have special circumstances like a transfer from a deceased person or a name change, additional fees may apply. 
The average cost of title and registration in IL could be more than $300 depending on the situation
Vehicle sales tax in Illinois
Now you've got the title and the VSD 190, you'll also need RUT-50 or Private Party Vehicle Tax Transaction form. This is required whenever there's a transfer through a private sale. This document coupled with the 6.25% sales tax payment is due within 30 days of purchase. There are a couple of exceptions to this tax implication. For example, if you're transferring from a deceased person or the vehicle is used for a tax-exempt organization like a nonprofit.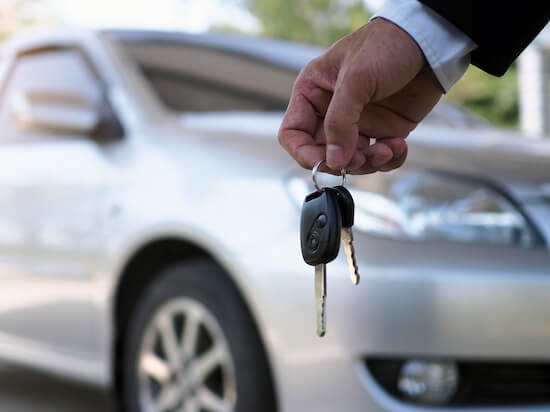 Finally, and not to be forgotten, the odometer disclosure. In other states, the odometer reading is generally accepted as information recorded on the title or a bill of sale. Not in the state home to the windy city! The secretary of state requires a separate written document including the odometer reading, make, model, year, color, VIN or vehicle identification number, date, names, and addresses of you and the seller.
The state provides form VSD 333.4 for this purpose. It has all the information required and downloadable versions of the form are easily found online. Some folks call it a seller's report. To tie it all up, you could complete a bill of sale as good practice but it isn't required as in other states, like Connecticut. 
SOS will issue a temporary registration permit (TRP) if you're applying for personalized or vanity license plates while you wait for them in the mail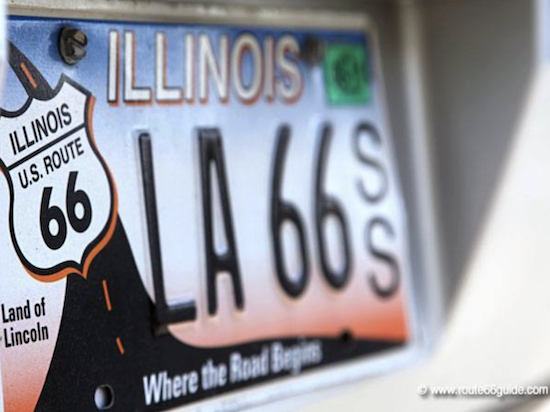 You may need additional documents to process title and tags
Depending on your circumstances, you might have to submit extra information. For example, if you're looking to transfer the title with a name change due to a divorce, you need to provide court documents pertaining to the divorce or legal name change. Perhaps you're listed as a co-owner on the title and the other co-owner has passed away. In that case, you need to submit a copy of the death certificate. 
It costs to ride in the Prairie State! 
It's definitely not cheap to get your automobile legal in Illinois. The total to title and register your car will run you at least $300 when processing paperwork with the SOS. It may even be more depending on any extenuating circumstances like a new plate fee, lien removal fee, or even a name change fee. Any one of those scenarios could add $25-$50 to the bill! The IL title transfer is $150 and the registration comes to $151 for a passenger car, $41 for a motorcycle, and if you've got a personalized plate $164.  Remember, if you plan to drive your car, you need an Illinois registration! The title only proves you own it. 
Typically, title and registration go hand in hand. You can transfer your plate if you have one in your name. It'll cost you $25 more. Keep in mind, if you want to order new specialty plates, it'll take about 60-90 days to arrive in the mail.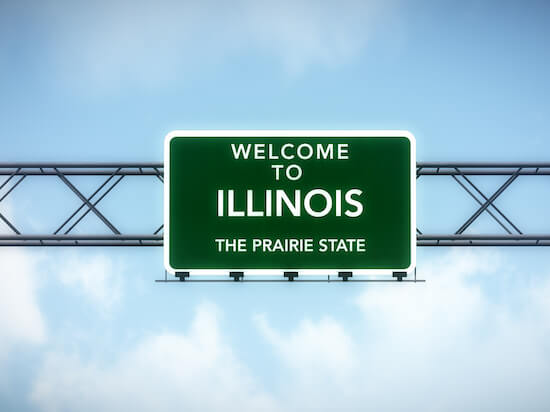 Registering your vehicle from another state
If you've just made a move to Illinois or you're registering a vehicle that was purchased from another state, mostly the requirements are the same. The only additions when titling from out of state are the requirements for proof of residency in Illinois and your current registration. Your title fee will be a bit less at $50 compared to the $150 you'd pay for an instate transfer. If your car was bought at a dealer, you'll also need RUT 25 or "Vehicle USE Tax Transaction Return"-also provided by the SOS.
According to the Alternative Fuels Data Center (AFDC), you can apply for a registration reduction fee if you drive an electric vehicle
You can submit your documents in person or by mail
You've got a nice, neat packet of forms including your title, the VSD 190, the RUT 50, the odometer disclosure, valid state insurance, and a check or money order for the cost of your title and registration. Use the state's website to be sure you've correctly estimated your fees. You can bring it in person to a local office or mail it instead.
The title will take about 6 weeks to arrive from the SOS office. If you find you're waiting longer than that, you definitely want to give them a call or head over to a local office. If you plan to go in person, make sure you get online and do some research. You might need an appointment first.
How to transfer IL title and register vehicle online
Now that you understand how processing your car papers works, know that you can also process it all online. eTags online, now serving seven states, can take care of all your title and tags needs. Even if you or the seller happens to have misplaced or lost the car title, you can apply for a duplicate title also called a title replacement online, before going through the steps described in this blog.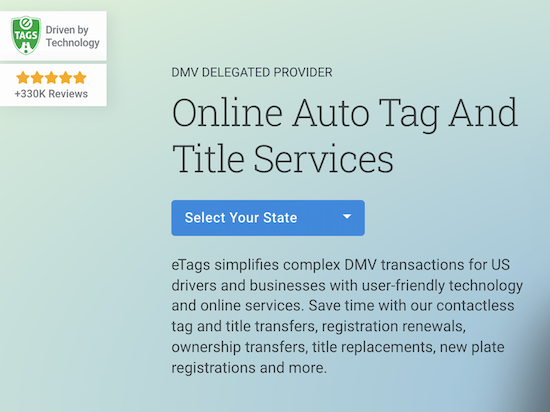 The certificate of title takes about 6 weeks to arrive from the SOS office, but if you process it online, you can get the paperwork at your doorstep much quicker
eTags follows the same guidelines and regulations as the IL Secretary of State, with added perks to a full-service online. The obvious one being no in-person visits. No need for appointments or any time off work, to have your vehicle paperwork done. No waiting in line, no chance of back-and-forth for missing documents. With eTags, you can communicate directly with a title specialist via your own, personal account online.
You can also ask to have your paperwork shipped to a different address than what's on your driver's license. So if you're out-of-town, you can still ensure title and registration. eTags offers a variety of payment options, even split payments over time. So if you rather process your vehicle paperwork online, whether it's a passenger car, an SUV, a motorcycle, or an RV, eTags may be the right fit.