Of all the places where driving involves great scenery and adventure, California brings it all. The state is home to plenty of highways and freeways that make up some of the most popular road trips. Think Highway 1 along the Pacific Coast, the legendary Route 66, and Avenue of the Giants.
The Golden State offers a network of more than 50,000 miles of roads in great conditions, along with freeways and highways that can get you anywhere you wish to explore.
While driving in California can be fun, you should pay close attention to certain road aspects that are worth sharing and discussing for your own safety.
If you are planning a road trip across the golden state or you are just a new CA resident, stay tuned because we are going to make things easier for you.
Save Money on Your Auto Insurance Bill, Compare Quotes Fast
Below you'll find everything you need to know about driving in California.
#1 Safety rules applies to everyone
According to the law in CA, motorists and passengers must wear a seatbelt, and motorcyclists must wear a helmet.
When it comes to operating a vehicle, wearing those items is a no-brainer, especially when people are getting terrible to fatal injuries for not buckling up.

#2 Keep track of the speed limit signs
Speed limits signs are easy to follow. They've been strategically located to help you navigate at a safe speed in different roads.
The typical speed limit sign on freeways with multiple lanes is 65 mph. But there are cases in which the speed limit increases to 70 mph.
On two-lane highways, expect a speed limit of 55 mph. And be prepared to slow down when driving in the city.
The speed limit sign on city streets tends to be 35 mph, whereas residential areas and school zones usually have 25-mph speed signs.
#3 Speed limits are enforced in California
Speeding excessively in California may get you in trouble if caught by law enforcement.
Did you know that local authorities monitor the road from the air? If you are driving in California, you may need to consider being caught in fraganti by aircrafts.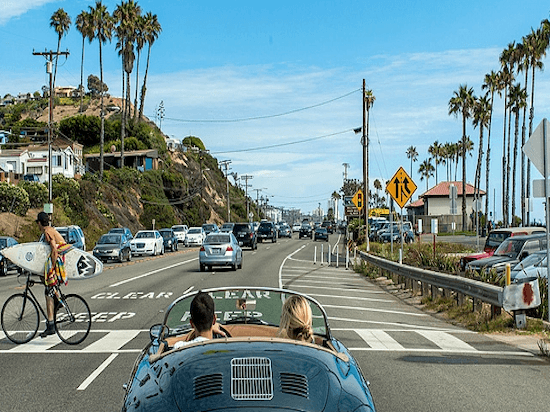 These aircrafts can immediately detect erratic drivers who go over the speed limit and alert police officers about your speeding.
Not to mention that Californian drivers are also monitored by roadside cameras in the most random places. You have no other choice than adjusting your speed accordingly.
#4 Distracted driving is against the law
Just because people are getting increasingly engaged with their gadgets doesn't mean you have a reason to use your phone while driving.
It's completely against the law to type, send, or take a call while driving.
With that being said, you either get hands-free device or put the phone down until you reach your destination.
#5 Carpool lanes
Carpool lanes, or diamond lanes, are reserved for vehicles with more than two people including the driver.
If you are ever caught using the lane reserved for carpooling while solo driving, expect expensive fines close to $400 in certain locations.
In Los Angeles, for instance, carpool lanes have specific entry and exit zones. And drivers who fail to follow the rules are subject to hefty consequences.
#6 Snow driving
Driving in California can be fun regardless of the season. Yet, extreme weather may jeopardize a pleasant drive.
Some drivers including truckers may need to keep chains handy or use snow tires to keep their vehicle running.
You may also face road closures and maintenance disruptions that need to be planned in advance to enhance your safety.
SEE ALSO: How To Keep Track Of The Speed Limit With Google Maps