Every year, pets all over the country suffer from unnecessary injury and even death, much of it unreported, from being left in hot vehicles by their owners. While many of the tragedies associated with children being left in hot cars are accidental, that is not usually the case when it comes to pets. Many pet owners only intend to run "quick" errands and assume leaving their extended family in the car for a few minutes is ok. Not only is this cruel and inhumane, in many states, it's illegal.
Currently, there are 24* states that have established laws prohibiting owners from leaving their pets unattended in locked vehicles or ones that provide protections for individuals who rescue animals from unattended, locked vehicles.. These states include:
| | | | |
| --- | --- | --- | --- |
| California | Nevada | Arizona | Illinois |
| Maine | Maryland | Minnesota | North Carolina |
| New Hampshire | New Jersey | New York | North Dakota |
| Rhoda Island | South Dakota | Vermont | West Virginia |
| Tennessee | Delaware | Florida | Massachusetts |
| Ohio | Virginia | Washington | Wisconsin |
*Updated April 2017
The laws imposed by these states as well as the penalties for violating them will vary by state. For example, in Arizona, you will receive a Class 1 misdemeanor charge. In Maryland, you will receive a $700 fine while in Minnesota, the fine is only $25. While 34 states lack to implement and enforce any laws protecting pets trapped in vehicles, you could still face pet cruelty charges in those states if you're reported.
Save Money on Your Auto Insurance Bill, Compare Quotes Fast
UPDATE 7/14/15 – Tennessee is the very first state in the nation to implement legislation that grants immunity from civil liability to individuals who break-in to a parked park with an child or animal locked inside. Yay, Tennessee! Broad procedures must be followed which include determining their is no other viable form of entry (checking for unlocked doors), assessing that the child or animal is actually in imminent danger, calling law enforcement advising them of your intent to break-in prior to doing so and seeking counsel as is reasonable given the situation, and staying at or near the scene (or leaving a note on the car and remaining within a reasonable distance) after the rescue attempt until law enforcement arrives. 
UPDATE 7/17/15 – Petitions on change.org have been created to promote the passing of similar laws as those recently passed in Tennessee, providing protection for pets left in cars AND immunity from civil liability for their civilian rescuers. Support these petitions in Florida and Texas, regardless of where you live, in order to get legislation passed in both of these states and promote all other states to follow suit.
How Hot Can a Car Get?
On a pleasant 70 degree day, the inside of a vehicle can reach a temperature of 102 degrees in just 30 minutes! Even if you leave the windows cracked a couple inches or you park under a shady tree, your car can still become hotter than is safe for your pet. The chart below shows the progression of heat in a vehicle.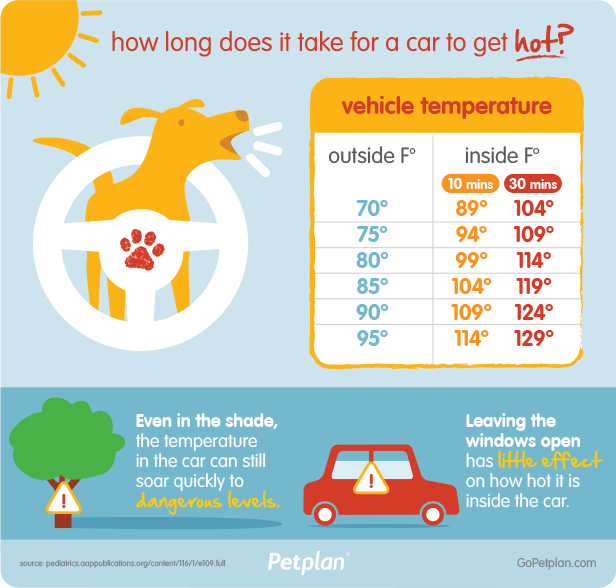 Courtesy of PetPlan's #DriventoBark campaign
When pets are left in a hot vehicle, the biggest risk is hyperthermia, also known as overheating. It only takes 15 minutes for your pet to experience hyperthermia which can quickly lead to death. Animals that are most vulnerable to hyperthermia include:
Young pups/kittens and older animals
Those that are overweight
Animals with a short muzzles like boxers or bull dogs
Those that have a coat that's thick or dark colored
If your pet has been stuck in a hot vehicle, you will want to try and get their body temperature down as fast as possible. In order to do so, soak your pet in cool water (not ice cold). It's also important that you do not get any water in your pet's mouth or nose if they are in fact unconscious. Once you have lowered your pet's body temperature, contact your local veterinary.
Good Samaritan Laws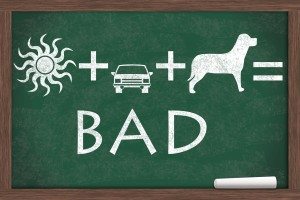 Good Samaritan laws are laws created with the purpose of allowing individuals to help in an emergency situation without receiving civil penalties. This can include breaking a glass window to get the pet out or other actions that could save a pet's life. However, Good Samaritan Laws will vary by state. In most states with laws specific to pet left in hot cars, law enforcement, a peace officer, an animal control enforcement agent, or an animal control enforcement deputy are the only individuals that are allowed to rescue a pet from someone else's vehicle. As a civilian though, you can take different forms of action.  If you see a pet that needs help, follow the steps below:
Collect the vehicle's make, model and license-plate number
If you are near a business, go to that business and request that the manager or the security guard makes an announcement over the intercom, so the owner can be notified if they happen to be within that establishment.
If the owner of the vehicle cannot be located, call the local authorities or an animal control specialist as soon as possible. Make sure that you stay there until help arrives.
There are multiple other ways you can help prevent pets from being left in a hot vehicle. They include:
Inform yourself on your states laws for leaving pets in hot cars and save the phone numbers to the proper authorities and authorized individuals that can take action when needed.
Spread awareness about the dangers and the penalties for leaving pets in a hot vehicle by distributing "hot car flyers" to friends, family, and especially any pet-parent.
Request that local businesses post signs reminding customers and other patrons parked near their business not to leave their pets in hot vehicles while they shop or eat.
Voice your opinion to local representatives or attend your city council meeting if your town doesn't have laws that prohibit people from leaving pets in hot cars, parked or not.
Tips for Caring for Your Pet During Warm Weather
Loving pet parents like to have their pet children with them as often as possible. The best advice though for local travel is to leave your pet at home if you expect that your destination may not allow pets inside. Remember, even a "quick" 10 minute errand can be dangerous for pets in hot cars. For every-day play and interactions, the ASPCA provides some helpful tips to help you keep your pet healthy and comfortable especially in the summer:
Bring along cold water stored in a thermos or frozen water that will have time to melt so your pet can drink as needed to refresh as you are out and about.
When you exercise your pet, only do so in the morning, late afternoon, or evening. These are the coolest parts of the day and are the best times for your pet to be outside.
Walk your pet across grass on hot days as asphalt can become quite hot and can burn your pet's paw pads.
When outside and stationary, have your pet stand or sit in a shaded area to give him or her a break from the suns hot rays.